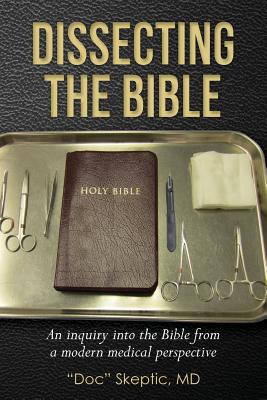 Dissecting the Bible: An Inquiry Into the Bible from a Modern Medical Perspective (Paperback)
An Inquiry Into the Bible from a Modern Medical Perspective
Createspace Independent Publishing Platform, 9781477484210, 306pp.
Publication Date: December 20, 2012
Description
Miracles form the bedrock on which Christianity rests. The Bible abounds with well-known miracle stories such as the creation and the ten plagues. However, medical miracles form the bulk of the stories. Throughout its pages the blind receive their sight, the deaf their hearing and the mute their speech. Even more spectacular biological claims such as the virgin birth and the death and resurrection of Jesus Christ form the basis upon which the deity of the second member of the Trinity is based. But are these stories true? "Doc" Skeptic, MD, a former devout Christian and a trained physician examines these ancient claims in detail through the dual lenses of logic and science and shows them to be largely untrustworthy. It is the author's hope that the intellectually honest Bible student may find in these pages the information needed to critically and independently evaluate for themselves the astounding claims contained therein.
About the Author
"Doc" Skeptic, MD, FACP is a board certified physician and a Fellow of the American College of Physicians. He is married with children and lives in Southern Maine. The recipient of many awards incuding Student of the Year and Teacher of the Year, he is in private practice as an internist. A congenital member of the Plymouth Brethren until he started thinking, he remains a lifelong student of the Bible and related documents. He is passionate about science and takes every opportunity to learn and disseminate new information.
Advertisement