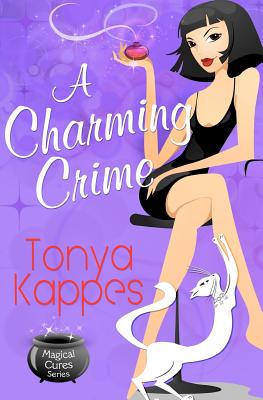 A Charming Crime (Paperback)
A Magical Cures Mystery
Createspace Independent Publishing Platform, 9781477594520, 320pp.
Publication Date: June 3, 2012
* Individual store prices may vary.
Description
Bubble... Bubble... June Heal has nothing to lose when she relocates her homeopathic cure shop, A Dose of Darla, from the flea market booth in her home town, to a quaint shop in the cozy but unusual little town of Whispering Falls, Kentucky. Or so it seems. Cures and trouble... Whispering Falls has a lot of secrets. From talking snow globes to whispering animals not to mention a few sprinkles of fairy dust, June realizes Whispering Falls is more magical than she thought. . .literally.
About the Author
USA Today Bestselling Author, Tonya Kappes writes humorous cozy mystery and women's fiction that involves quirky characters in quirky situations. Not only have her novels made the USA Today bestsellers list, but they are an Amazon Top 100 author, Amazon Movers and Shakers, and International bestsellers. Splitsville.com, the first novel in the Olivia Davis Mystery Series, is a double finalist in the Next Generation Indie Book Awards in the Mystery and Humorous Categories. Carpe Bead 'em is 2012 winner in Amazon's eFestival of Words in the Women's Fiction Category. A Charming Crime, the first novel in the Magical Cures, is the 2013 eFestival of Words in the Fantasy Category Winner. A New Tradition the Indie Romance Convention 2013 novella of the year. When not being the princess, queen, and jester of her family of three teenage boys, an adoring husband, and three fury kids, she travels to various writing groups as guest speaker on "How to Market and Promote Your Novels Effectively," where she is known as a marketing guru.