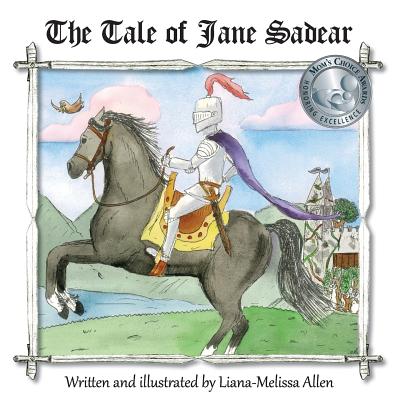 The Tale of Jane Sadear
Paperback

* Individual store prices may vary.
Description
GIRL VERSUS DRAGON A PICTURE BOOK IN VERSE A rhyming COLORFULLY ILLUSTRATED BOOK for kids of all ages with the themes of determination and courage Recipient of the prestigious MOM'S CHOICE AWARDS(R) SILVER MEDAL Honoring Excellence AWARDED THE READERS' FAVORITE(R) FIVE STARS SEAL OF APPROVAL "I really enjoyed reading The Tale of Jane Sadear The story is very well written and it rhymes. The rhyming is very well done and gives the book a fun rhythm that children will enjoy. The story is very inspiring, because Jane is a young girl, and everyone underestimates her, but she was the only one brave enough to even try to slay the dragon. The book is full of many likable characters, especially Jane, who is kind and brave. The story is filled with lots of action and suspense. The pictures by Liana Melissa Allen are very well drawn and clearly depict each scene. I would definitely recommend this book to all young readers." -Readers' Favorite(R) FIVE STARS "Young readers of any gender can enjoy this refreshing tale, whose rhymed verses make the book a delight to read aloud." --CS Editor *****MOM'S CHOICE AWARDS(R) Silver Medalist Winner honoring excellence *****READERS' FAVORITE(R) FIVE STARS SEAL OF APPROVAL.
Createspace Independent Publishing Platform, 9781477600467, 38pp.
Publication Date: July 21, 2012
About the Author
A multiple MOM'S CHOICE AWARDS(R) Winner and FIVE STARS READERS' FAVORITE author/illustrator, Liana-Melissa Allen has written and illustrated eight popular books for children and youth. She is a cartoonist, writer, and pianist. "I love to create characters that range from the whimsical to the anamorphic goofballs, to the awesomely abnormal humans. I write and illustrate children's books including a picture book series for ages 5 to 10 called 'A Horse Valley Adventure'. 'Max's Day at School' is my latest and third book of the series. I also have a 'Horse Valley Toons' comic strip on my website that follows the comical adventures of my Horse Valley crew, Max, Jack, Lax, Donkey, and the young mischievous Twiddle and Dwiddle. My home is in Southern California with a playful yellow lutino budgie named Peeps that is always willing to help me when I get stuck on a project. Visit my website at LMABOOKS.COM for more about my books and to download some of my Horse Valley characters for your young ones to color...and also enjoy my cartoons and some of my jazz and classical piano while there!"