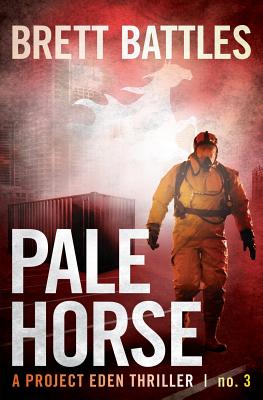 Pale Horse
A Project Eden Thriller
Paperback

* Individual store prices may vary.
Other Editions of This Title:
Compact Disc (9/3/2013)
MP3 CD (9/1/2015)
MP3 CD (9/3/2013)
Description
From thriller and suspense master Brett Battles comes Pale Horse, the third book in the Project Eden thriller series. And I looked, and behold a pale horse; and his name that sat on him was Death, and Hell followed with him. -Revelations 6:8 A simple push of a button and the world will never be the same. Martina Gable returns home from college to spend Christmas break with her family, but the relaxing vacation she expects is not even close to what she'll get. Sanjay, a young man in Mumbai who knows more than he should about Project Eden's plan, will do whatever he can to keep Kusum, the girl he loves, alive and safe. A boy named Brandon Ash runs for his life in the hills of Montana, wanting only to see his family again. But first there is Daniel, the boy's father, who watches Olivia Silva's finger hover over the enter key that will decide the fate of humanity. Do you think you're safe? Pale Horse is part of the Project Eden continuing sage, which is best read after completing volumes 1 and 2 (Sick and Exit 9)
Createspace Independent Publishing Platform, 9781477608838, 278pp.
Publication Date: June 21, 2012
About the Author
Brett Battles is the author of over a dozen novels and several short stories. His second novel, THE DECEIVED (part of his Jonathan Quinn series), won the Barry Award for Best Thriller. He is one of the founding members of Killer Year, and is a member of International Thriller Writers. He lives and writes in Los Angeles. More info available at www.brettbattles.com.