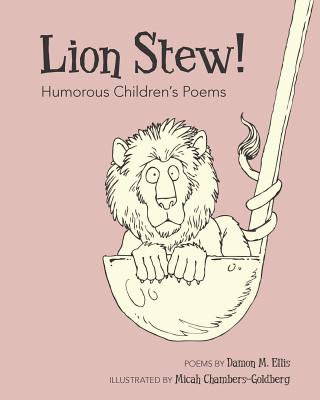 Lion Stew! Humorous Children's Poems (Paperback)
Createspace Independent Publishing Platform, 9781477613481, 34pp.
Publication Date: August 24, 2012
* Individual store prices may vary.
Description
Whether it is a man with a lawn growing on his head or a story about a tooth fairy that goes broke paying for fallen teeth, this collection of children's poems will delight with its zany humor. The clever rhymes of author Damon M. Ellis in Lion Stew Humorous Children's Poems are paired with equally whimsical illustrations by Micah Chambers-Goldberg. Each poem stands on its own, revealing unique characters and crazy situations in the tradition of Shel Silverstein and Jack Prelutsky. Children will love these playful poems filled with characters engaged in absurd activities and adventures. In "The Greatest Dive Never," a man never tires of bragging about a feat he will never actually perform: "Ladies and gentlemen gather and see the greatest dive ever in all history Spectacular tricks I will fearlessly dare, when I spring from the board fifty feet in the air. I'll do six stunning spins and five furious flips, two twisty turns and four dangerous dips...," writes Ellis. Other poems are equally fantastic, ranging from a girl who talked too much to a boy who swallowed his own head. Children will get a gross-out lesson from reading a poem about why you shouldn't squash bugs, and they will nod their heads at a little ditty that proclaims that teachers shouldn't give homework. Intended for children ages five and up, these poems will also please parents and teachers who will find that the funny book leaves youngsters giggling and snickering. Whether it is a monster who keeps people awake with his loud snoring rather than the ferocity of his roar or a visit from Miss Bo Peep who charges would-be sleepers for counting her sheep, nobody is quite who they seem to be in Ellis' humorous poems. Witty and whimsical, these rhyming stories are full of figurative language and silly stories that will draw children's rapt attention and devotion.
About the Author
An optometrist in Southern California, Damon M. Ellis has been writing children's stories for over a decade, but he only recently began to write poetry. He is married with one daughter and enjoys surfing whenever life brings him to the beach. To contact Ellis, please visit the website www.lionstew.com. For more information on Chambers-Goldberg, please visit www.micahmonkey.com.