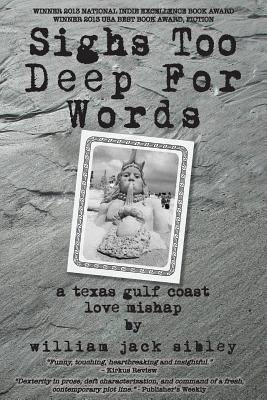 Sighs Too Deep For Words (Paperback)
Createspace Independent Publishing Platform, 9781477664179, 320pp.
Publication Date: October 10, 2012
* Individual store prices may vary.
Description
SIGHS TOO DEEP FOR WORDS is the story of a man in prison who falls in love, through lengthy correspondence, with a woman he's never met. Getting out, he goes to find her and discovers that the love letters he's received were written not by a woman but by a closeted gay man -- a small town minister. Not only did the minister deceive the prisoner, but he sent a photograph of his sister (who lives with him) as a picture representing himself. And not only is the sister unaware of the ruse, but she herself happens to be a lesbian. The ex-prisoner has fallen in love physically with a woman who doesn't know he exists, and mentally with a man he doesn't know how to love. Set in the scenic Texas Gulf Coast fishing village of Rockport, SIGHS TOO DEEP FOR WORDS is a darkly humorous and contemplative examination of the parameters of love, sex, sexuality and cultural perspective.
About the Author
William Jack Sibley's first novel ANY KIND OF LUCK (www.anykindofluck.weebly.com) was published by Kensington in 2001. It was nominated for a Lambda award (Best Romance), The Texas Institute of Letters "Funniest Book of the Year" John Bloom Award and the ForeWord Magazine Book of the Year. His play MORTALLY FINE was produced Off-Broadway and numerous of his screenplays have been optioned by such directors and actors as John Schlesinger, Arthur Hiller and Diane Ladd. His writing has appeared in the UTNE READER, HALLMARK MAGAZINE, BRILLIANT MAGAZINE, THE SAN ANTONIO CURRENT, THE ORLANDO WEEKLY, THE DALLAS TIMES HERALD, HERITAGE MAGAZINE, TEXAS CO-OP MAGAZINE, THE DEAD MULE ("A Journal of Southern Literature"), FLYING COLORS, SOUTHWEST AIRLINES MAGAZINE and THE NEW YORK NATIVE. In addition to screenwriting, playwrighting and journalism Sibley is a fifth generation Texan who oversees his family's ranching operations in South Texas. www.williamjacksibley.com