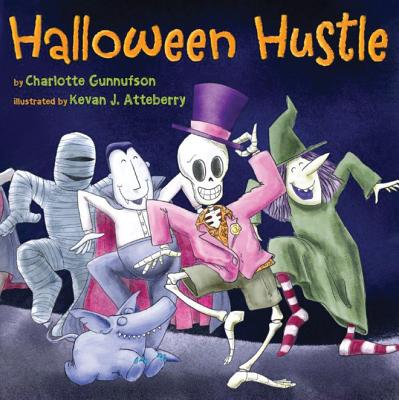 Halloween Hustle
Hardcover

* Individual store prices may vary.
Description
In the dark, a funky beat. Something white with bony feet. Skeleton dancing up the street, Doing the Halloween Hustle. Skeleton is dancing his way to a Halloween party--but as he grooves across town, he keeps stumbling, tumbling, and falling apart Can Skeleton stay in one piece long enough to make it to the party?
Praise For Halloween Hustle…
From School Library Journal
Wearing a jack-o'-lantern-print shirt and a mile-wide smile, Skeleton is finger-snapping and toe-tip-tapping his way to Ghost's Halloween party, but keeps tripping over things and falling all to pieces ("Bones scatter! What a clatter! Spine is broken like a ladder!"). Never fear, with the help of rubber bands, tape, twine, and finally Ghoul Glue (gently applied by a skeleton guest), he is back in jump-and-jive form just in time for the dance contest. Buoyant artwork accompanies the rollicking verses of this crowd-pleaser.

PreS-Gr 1—This toe-tapping, bone-cracking, jive-happening book is a great way to celebrate Halloween and/or dancing. Gunnufson uses a finger-snapping rhyme as she relates a skeleton's journey (along with his smiling monster friends) from home via bus to shops and then line dancing his way to a big Halloween party to participate in a dance contest. Nothing stops him from doing the Halloween Hustle, even the fact that three times his "Bones scatter!/What a clatter!/Spine is broken like a ladder!" Like a trooper, Skeleton uses rubber bands then tape and twine to keep himself together, until a girl skeleton he meets at the party suggests a bottle of superstrong glue."You're fixed forever! You're just like new!/Hey, I'd like to dance with you!" Atteberry's lively illustrations depict a happy, dancing Skeleton surrounded by his equally delightful monster friends. The only ick factor is the dancing zombie with an eye dangling from its socket (it's his detached foot that trips up Skeleton one final time). It's the most non-scary eye dangle ever, but still-ewww. Certain youngsters will love it! This fun-to-read dance of words is sure to be popular at storytime and at home.
Two Lions, 9781477817230, 32pp.
Publication Date: September 3, 2013
About the Author
Charlotte loves making kids laugh and getting them jazzed up about reading. Watch the giggle-inducing trailers at BooksByCharlotte.com and get lots of fun, free, kid-friendly stuff for kids (of course!), parents, caregivers, and teachers: activity kits, music downloads, coloring pages, crafts, word puzzles, mazes, and more. Check out Charlotte's event schedule, ask her if she can visit your school, library or bookstore, and learn the the official Halloween Hustle Dance!
Charlotte grew up in Minnesota, bossed by an older sister (who once tricked Charlotte into eating a worm) and pestered by a younger brother (who, among other misdemeanors, blew out the candles on Charlotte's birthday cake). Charlotte has since escaped to Iowa, where she writes and teaches Zumba Fitness classes. She has one handsome husband, two blue cats, and three remarkable children.


Illustrator Kevan Atteberry loves drawing funny, friendly monsters! He created the artwork for the Frankie Stein and Tickle Monster series as well as many other books. He's the author and illustrator of Bunnies!!! (which includes a monster!) and its sequel, Puddles!!! Kevan lives in the Pacific Northwest.