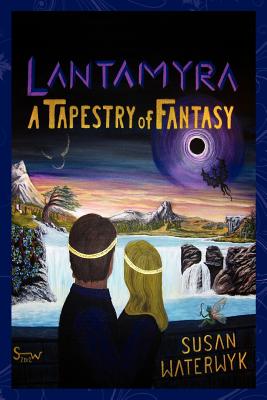 Lantamyra (Paperback)
A Tapestry of Fantasy
Createspace Independent Publishing Platform, 9781478141440, 500pp.
Publication Date: September 21, 2012
* Individual store prices may vary.
Description
For the chance to journey to another world, Tylya Lansing is willing to give up everything on Earth, including her lover, Josh Hamilton. All she has to do is find her grandmother's crystal scepter, lost for decades in a rugged Sierra Nevada canyon. Since she was a child, she has heard stories of Lantamyra, a world where magic is created with myra crystals, where mind expansion is granted crystal powers, where keepers and wards respect and protect life. Once the scepter is found, she journeys to this earth-like world that is recovering from an ice age. Areas of the planet have been terra-formed by the mysterious Keepers of Akosh to provide sanctuary for the endangered species of two other worlds-humans from Earth and dragons from Lanluong. She learns that Earth is about to experience catastrophic changes from earthquakes and volcanic eruptions, and Lantamyra may provide the only hope for humankind to survive. Tylya is determined to learn the ancient Akoshic Secrets of the Ways, a mind-expanding process necessary to control the power of myra crystals and to become a keeper of dragons. Excerpt from Chapter Five: Annoyed that her warning was shrugged off so easily, the queen brought her head close to Tylya. "You will pay for your training with your labor, but you will pay a higher price to become a keeper. It will change you in ways you cannot imagine..." Lantamyra is an intriguing story with plenty of drama, humor and memorable characters. Written for mature adults more than young adults, Lantamyra is not formula fantasy, no stereotypical evil villains. It mixes science and magic to make the crystal powers believable. The dragons are actually alien refugees forced to live on Lantamyra and the Keepers of Akosh are ancient beings who terraform living worlds. There are many exciting scenes but no extreme violence. Excerpt from Chapter Eight-Nightkeeper Kyra Starszyn: "This night belongs to lovers and dreamers, a night when threads of love are woven into a tapestry of fantasy...a night to magically transform into the character you wish to play.