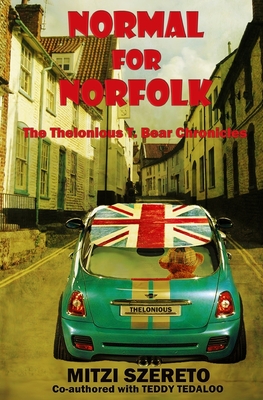 Normal for Norfolk (the Thelonious T. Bear Chronicles) (Paperback)
Createspace Independent Publishing Platform, 9781478177449, 180pp.
Publication Date: July 19, 2012
* Individual store prices may vary.
Description
Pub landlords are being murdered in Norfolk Thelonious T. Bear, ursine photojournalist, leaves behind the big city life of London to take an assignment in the Norfolk countryside, where he hopes to find the real England. Instead he stumbles upon gastro-pubs, crazed Audi drivers and murder. As the hapless Thelonious keeps ending up in the wrong place at the wrong time, he attracts the attention of Detective Chief Inspector Horatio Sidebottom of Norfolk Constabulary CID, who's determined to tie Thelonious to the crimes. Add in a pair of hoods from London's East End, celebrity TV chef Paolo Louis Black, and plenty of oddball local characters and it all adds up to a madcap journey through England's most quirky county, where everything is normal for Norfolk "For anyone who's ever wondered what Paddington at Large would have been like if it had been written by Raymond Chandler-and who hasn't?-Mitzi Szereto has the answer. Like Philip Marlowe, Szereto's Thelonious T. Bear is a modern knight errant who plays it cool even as the light of suspicion shines on him. And like Paddington, he's short of stature and long on charm. If you like your sleuths tough, cynical and cute as a button, Normal for Norfolk is the book for you." -Steve Hockensmith, author of Holmes on the Range and Pride and Prejudice and Zombies: Dawn of the Dreadfuls"Normal for Norfolk has it all: magic, gritty realism, humor, cultural commentary, intelligence, charm, and suspense. The hero of this novel, Thelonious T. Bear, finds himself at the heart of a mystery. He's a photojournalist like no other, a pub-loving, anthropomorphized bear who wears cologne and a deerstalker hat. I am eager to read the next book in Mitzi Szereto's series." -Janice Eidus, author of The War of the Rosens and The Last Jewish Virgin.
About the Author
Mitzi Szereto (mitziszereto.com) is an author and anthology editor of multi-genre fiction and nonfiction. She has her own blog, Errant Ramblings: Mitzi Szereto's Weblog (mitziszereto.com/blog) and a Web TV channel, Mitzi TV (mitziszereto.com/tv), which covers "quirky" London. Her books include the Jane Austen parody Pride and Prejudice: Hidden Lusts; Thrones of Desire: Erotic Tales of Swords, Mist and Fire; Red Velvet and Absinthe: Paranormal Erotic Romance; In Sleeping Beauty's Bed: Erotic Fairy Tales; Getting Even: Revenge Stories; Wicked: Sexy Tales of Legendary Lovers; Dying For It: Tales of Sex and Death; the Erotic Travel Tales anthologies and many other titles. A popular social media personality and frequent interviewee, she has pioneered erotic writing workshops in the United Kingdom and mainland Europe and lectured in creative writing at several British universities. Her anthology Erotic Travel Tales 2 is the first anthology of erotica to feature a Fellow of the Royal Society of Literature. She divides her time between England and the United States. Teddy Tedaloo (teddytedaloo.com) is a celebrity teddy bear, trendsetter, world traveller, and the production assistant extraordinaire/co-star of the web TV channel Mitzi TV. Widely popular in social media circles such as Facebook and Twitter, he's known for his entertaining commentary as well as being an advocate for animal welfare. He lives (and goes) wherever Mitzi lives (and goes). Normal for Norfolk is his first novel.