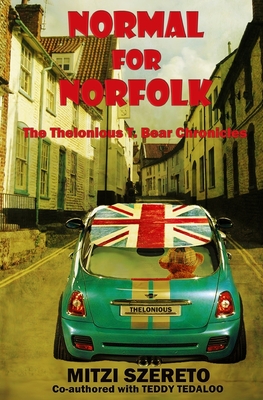 Normal for Norfolk (the Thelonious T. Bear Chronicles) (Paperback)
Createspace Independent Publishing Platform, 9781478177449, 180pp.
Publication Date: July 19, 2012
About the Author
Mitzi Szereto (mitziszereto.com) is an author and anthology editor of multi-genre fiction and nonfiction. She has her own blog, Errant Ramblings: Mitzi Szereto's Weblog (mitziszereto.com/blog) and a Web TV channel, Mitzi TV (mitziszereto.com/tv), which covers "quirky" London. Her books include the Jane Austen parody Pride and Prejudice: Hidden Lusts; Thrones of Desire: Erotic Tales of Swords, Mist and Fire; Red Velvet and Absinthe: Paranormal Erotic Romance; In Sleeping Beauty's Bed: Erotic Fairy Tales; Getting Even: Revenge Stories; Wicked: Sexy Tales of Legendary Lovers; Dying For It: Tales of Sex and Death; the Erotic Travel Tales anthologies and many other titles. A popular social media personality and frequent interviewee, she has pioneered erotic writing workshops in the United Kingdom and mainland Europe and lectured in creative writing at several British universities. Her anthology Erotic Travel Tales 2 is the first anthology of erotica to feature a Fellow of the Royal Society of Literature. She divides her time between England and the United States. Teddy Tedaloo (teddytedaloo.com) is a celebrity teddy bear, trendsetter, world traveller, and the production assistant extraordinaire/co-star of the web TV channel Mitzi TV. Widely popular in social media circles such as Facebook and Twitter, he's known for his entertaining commentary as well as being an advocate for animal welfare. He lives (and goes) wherever Mitzi lives (and goes). Normal for Norfolk is his first novel.
Advertisement