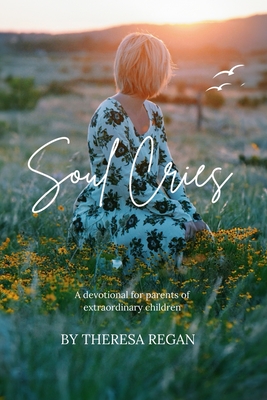 Soul Cries (Paperback)
Createspace Independent Publishing Platform, 9781478221616, 322pp.
Publication Date: September 13, 2012
* Individual store prices may vary.
Description
Soul Cries is a book of 155 devotions written for anyone praying into the life of an exceptional child. The reader may be a parent, grandparent, educator, or pastor, loving and praying over a child with physical, emotional, learning, or behavioral challenges. This book is written to encourage readers and ignite their faith as they pray. As a mother and a medical professional, Theresa Regan has seen first-hand the challenges families with struggling children face. Her six-year-old son has tackled various challenges associated with the autistic spectrum. As a Neuropsychologist working at OSF Saint Francis Medical Center in Peoria, Illinois, she interacts with children and parents in the context of medical obstacles. Within her city and community, she sees families trying to help their children overcome learning problems, tackle anxieties, and develop social and relational skills in difficult situations. She is aware of the struggles that parents and children wrestle with, gain from, and often wrestle with again. This book was born out of living, seeing, and knowing. "I have seen your wrestling. I have seen the heart you have for your children," says Regan. "I pray that this book will declare God's goodness over your household and encourage you in your faith." The book's devotions represent Regan's soul cries for parents and children. "We have a God who gives us beauty for ashes," says Regan. "He hears our soul cries and turns our tears into joy." Each devotional soul cry begins with a scripture verse followed by inspirational text. The end of each devotion includes questions for thought, journaling, or discussion. This versatile devotional can be used for individual or group study. The reader will find themes of praise, encouragement, blessing, and significance. The book invites the reader into prayer and intimacy with God, a life-impacting journey for all. Regan dedicates the book to families by quoting a scripture from Ephesians: Ephesians 3:14-17 (New International Version) For this reason I kneel before the Father, from whom every family in heaven and on earth derives its name. I pray that out of his glorious riches he may strengthen you with power through his Spirit in your inner being, so that Christ may dwell in your hearts through faith. This scripture captures her conviction that it is out of God's glorious riches and through Christ dwelling in us that we are strengthened and filled with faith. Her heart is for families, and her devotions are her soul cries.
About the Author
Theresa Regan is a Neuropsychologist with the Illinois Neurological Institute at OSF Saint Francis Medical Center in Peoria, Illinois. She lives with her husband and son in Illinois. She and her family enjoy reading, fencing, singing, and feasting.