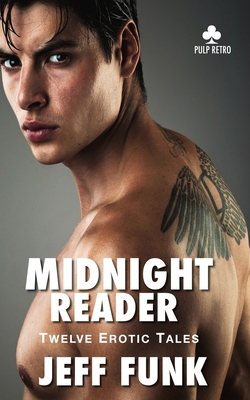 Midnight Reader (Paperback)
Twelve Erotic Tales
Createspace Independent Publishing Platform, 9781478241324, 172pp.
Publication Date: July 13, 2012
* Individual store prices may vary.
Description
Midnight Reader (Twelve Erotic Tales) is the complete and unabridged collection of the first four books of the Midnight Reader series. Bad Boy by Jeff Funk. Bad boy-he's hot and knows it. In the first story, "Sex in the Streets," a twenty-something skateboarder punk encounters a forty-year-old shy guy who has a few tricks of his own to teach. Richard and Jim are workout buddies home on summer break, and tonight they're going to meet up with Jim's other buddy. Greg just got a new dorm roommate who's so handsome that Greg can't stop fantasizing about kissing this whiskery stud. Curious by Jeff Funk. Men have animal urges and sometimes they're looking for action, even if it's with another man. First a college boy with a fetish for sniffing jockstraps learns that he's not the only frat brother who's into dudes. A straight construction worker with a high sex drive gets seduced by Jake in "Leaving My Mark." A convention in Washington, D.C. brings together a pair of young businessmen who find pleasures at night in the city. Rascal by Jeff Funk. Some men are rascals and they're getting it on at every turn. At the leather bar, while the guys' shenanigans on stage are raising hell, an out-of-town stud winds up in some trouble of his own in "Den of Heathen Desires." It's blackout night at the bathhouse and passion awaits in room sixty-nine at the end of the hallway. Then the country boys are at it again at the Rusty Screw jeans and leather bar enjoying each other's hospitality. Stranger by Jeff Funk. For men who desire men, nothing matches the heat of a quick encounter with a stranger. Eric finds lust in the airport terminal in Miami before meeting an exotic hunk in Nicaragua. On a camping trip, a male couple discovers that they're not alone-someone is watching from the woods. Ahoy Set sail on a cruise where desires between men take hold on ship and shore. Twelve o'clock. Twelve erotic tales intended for mature readers.
About the Author
Jeff Funk has written music for twenty years published by some of the world's largest and oldest media conglomerates. His works have sold millions of copies internationally. His short stories have appeared in paperback and eBook anthologies published by Alyson Books, Cleis Press, Bold Strokes Books and Bruno Gmunder. As an actor he was billed as Crawling Man in the horror film Return in Red. He's the author of the Midnight Reader series.