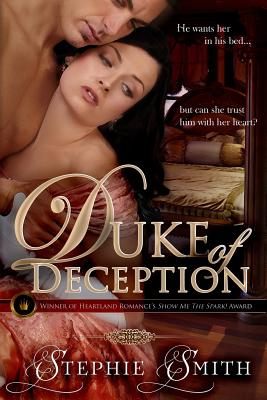 Duke of Deception (Paperback)
Createspace Independent Publishing Platform, 9781478247586, 288pp.
Publication Date: July 24, 2012
About the Author
Stephie Smith was born in Parkersburg, West Virginia, the fifth of six girls. Early years were spent making mischief and, in general, driving her parents crazy while the family migrated between Ohio, West Virginia, and Florida. In fact, her family moved so often-18 times before Stephie finished sixth grade-that some people suspected they were running from the law. Stephie left home at 14, finished high school at 16, and enlisted in the Air Force at 18, graduating with honors from the USAF Schools of Electronics and Instrumentation. After attending several colleges and universities around the country (switching majors from Chemistry to Art to English to Psychology but never figuring out what she wanted to be when she grew up), she followed her sisters to east central Florida and settled there. She remains there today writing historical romance, humorous women's fiction, and computer how-to books. You can contact her through her website StephieSmith.com. She loves to hear from readers.
Advertisement