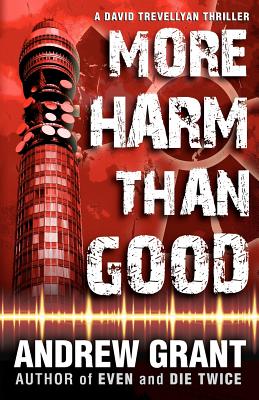 More Harm Than Good (David Trevellyan Thriller)
Paperback

* Individual store prices may vary.
Description
Don't mess with a tough guy with time on his hands. Especially if you have secrets to keep. A head injury requires a mandatory health check. That's Naval Intelligence's standard procedure. Covert operative David Trevellyan doesn't like procedure. But he goes along to get along. He agrees to a hospital stay and an MRI. Then someone steals his boots. Mistake. Trevellyan decides to keep himself in the hospital until justice is served. His bosses don't share his priorities, so - in trademark fashion - he takes matters into his own hands. The trap he sets slams shut with ruthless efficiency. But Trevellyan finds he's caught more than a thief. He's stumbled into a complex, multi-layered conspiracy designed to cause incalculable diplomatic damage. For the first time in his career Trevellyan must operate in his home territory. He approaches the task with his customary vigor. But between criminals on one side and regulations on the other, he's more isolated than ever. And as a virtual stranger in his own land, with the body-count rising and his time running out, he's soon facing the soul-searching question: Is he doing MORE HARM THAN GOOD?
Createspace Independent Publishing Platform, 9781478250913, 340pp.
Publication Date: July 19, 2012
About the Author
Andrew was born in Birmingham, England in May 1968. He went to school in St Albans and attended the University of Sheffield where he studied English Literature and Drama. After graduation Andrew set up and ran a small independent theatre company. Following a critically successful appearance at the Edinburgh Fringe Festival Andrew moved into the telecommunications industry as a 'temporary' solution to a short-term cash crisis. Fifteen years later, Andrew became the victim / beneficiary of a widespread redundancy programme. Freed once again from the straight jacket of corporate life, he took the opportunity to answer the question, what if ... ? Andrew is married to novelist Tasha Alexander, and divides his time between Chicago and the UK.