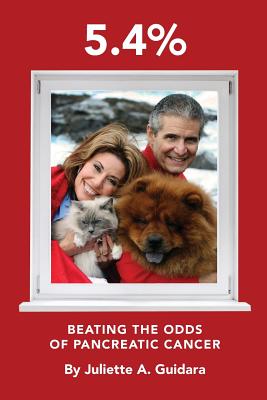 5.4% (Paperback)
Createspace Independent Publishing Platform, 9781478273592, 334pp.
Publication Date: September 23, 2012
* Individual store prices may vary.
Description
Eleven days before their first wedding anniversary, Juliette Guidara's husband, Frank, was diagnosed with pancreatic cancer and given a 5.4% chance of survival. The couple looked to their doctors for all the answers; however, they soon realized that it's impossible for doctors to know everything, because they are educated to diagnose and prescribe drugs within the parameters of their training. They rarely search for the root cause of problems or choose to boost their patients' immune system with nutrition and/or supplements. "Our hearts go out to oncologists," says the author. "Their days are filled with devastating news and death. We pray that one of these days, the pharmaceutical companies, in conjunction with the FDA, will allow them to take advantage of the safe and helpful complementary modalities that are out there." The main reason Juliette wrote 5.4%: Beating the Odds of Pancreatic Cancer, was to enlighten patients and those who care for them about healing options that go beyond the traditional treatment of surgery, radiation and chemotherapy. She believes there is no reason to restrict treatment to either Western or Eastern - they can work together. Following is a life-changing journey supported by tremendous love, hope, commitment, determination and sheer strength. Her book shares a profound love story that relates to how a death sentence was turned around. Written from the heart and soul, this honest account of an extremely challenging time will resonate with many readers. It's all about survival and being open to new and different ideas.
About the Author
At the age of nineteen, Juliette Guidara outgrew Switzerland and moved to America. She learned the language and successfully worked her way up the corporate ladder to vice president of operations for an entrepreneurial enterprise in Los Angeles. She eventually moved to Boston to marry the love of her life, Frank. She then changed the path of her career to fulfill her fundamental need to help people and became a hypnotherapist. Little did she know at that time, how much that would be needed! A member of the National Guild of Hypnotists, Juliette is certified in Complementary Medical Hypnotism, is a Certified Clinical Hypnotherapist and has her Masters Certification in Neurolinguistic Programming. Eleven days before their first wedding anniversary, she learned that Frank had contracted pancreatic cancer. The couple went through the big three: surgery, radiation and chemotherapy and also ventured into many complementary and alternative healing modalities to finally beat the disease. This dramatic and painful experience led Juliette to research cancer and the immune system, as well as other healing modalities. She became a passionate student of anything that would help Frank in his recovery. As a result, she became a Certified Tong Ren practitioner, a raw food chef / teacher / instructor. Her book, 5.4%, is an honest and true story about love, commitment, strength, courage and dedication. It is that fundamental need to help people that drove her to write this book in order to share all that she has learned.