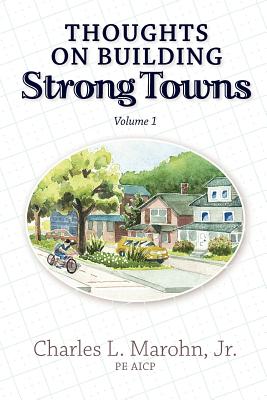 Thoughts on Building Strong Towns, Volume 1 (Paperback)
Createspace Independent Publishing Platform, 9781478319276, 176pp.
Publication Date: August 4, 2012
Other Editions of This Title:
Paperback (9/24/2016)
* Individual store prices may vary.
Description
Following World War II, the United States embarked on the great social and financial experiment of suburbanization. While it created tremendous growth, opportunity and prosperity for a generation that had just lived through economic depression and war, the way cities and regions were being built ? spread out across the landscape ? would ultimately be extremely expensive to sustain, far greater than the relative wealth the approach would generate. The harsh legacy of this reality is what nearly every U.S city faces today. A new approach to creating and sustaining prosperity is necessary. Charles Marohn is the author of the Strong Towns Blog and founder of the Strong Towns movement. As a civil engineer, land use planner, economic thinker and author, he brings a fresh perspective to the way America's cities have been built and financed. His work has been widely distributed and examined by decision-makers at all levels of society. Thoughts on Building Strong Towns is a collection of Marohn's thought-provoking essays from 2011, reworked and edited with some additional material and notes added by the author. There are 34 essays in all including: The Growth Ponzi Scheme, The Infrastructure Cult, Do we really care about children?, Complete Roads and The Diverging Diamond.
About the Author
Charles Marohn is a father, husband and an imaginer of great things. He is the founder of the Strong Towns movement and currently serves as Executive Director of Strong Towns, a 501(c)3 non-profit organization. He is an engineer, planner, author, columnist, podcaster and public speaker. Marohn has a Bachelor's degree in Civil Engineering from the University of Minnesota's Institute of Technology. He is a licensed engineer in the state of Minnesota. He also has received a Master's of Urban and Regional Planning from the University of Minnesota's Humphrey Institute. He holds certification from the American Institute of Certified Planners. Marohn is a member of the Congress for the New Urbanism and is active in their NextGen affiliation. He is also a member of the American Planning Association and the National Society of Professional Engineers.