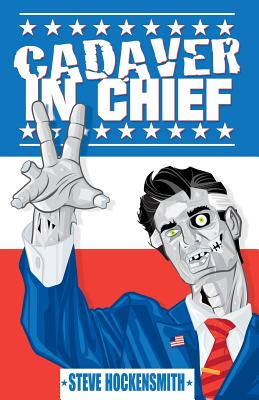 Cadaver in Chief (Paperback)
A Special Report from the Dawn of the Zombie Apocalypse
Createspace Independent Publishing Platform, 9781478348122, 146pp.
Publication Date: August 2, 2012
* Individual store prices may vary.
Description
HE CAME TO WASHINGTON FOR BRRRRRRRRAINS.NO WONDER HE'S STILL HUNGRY.The undead have risen from their graves, and society hangs by a thread. But America's political parties aren't going to let a little thing like the zombie apocalypse get in the way of a presidential election. There are nasty whispers about the incumbent, though, and they have nothing to do with where he was born. The rumor: He's dead.Could a zombie be running for President? It's up to ace Washington Tribune reporter Jan Woods to find out. Cadaver in Chief, the new 10-chapter mini-novel from New York Times bestseller Steve Hockensmith (Pride and Prejudice and Zombies: Dawn of the Dreadfuls), follows Woods on her search for the truth...a search that puts her up against the most dangerous ghouls in Washington. Oh, and zombies, too.Praise for the novels of Steve Hockensmith: "...hilarious...delightfully offbeat...." --Entertainment Weekly"...wonderfully entertaining...." --Booklist"...quirky and original...breezy and funny...." --The Pittsburgh Post-Gazette"...a hoot " --The Washington Pos.
About the Author
Steve Hockensmith is the author of the New York Times bestseller Pride and Prejudice and Zombies: Dawn of the Dreadfuls. He is also the author of several non-New York Times bestsellers, including the Nero Award finalist The Crack in the Lens, the Edgar, Shamus, Dilys and Anthony Award finalist Holmes on the Range, the Audie Award finalist Dreadfully Ever After and the not-nominated-for-anything-but still-quite-entertaining Dear Mr. Holmes and Naughty: Nine Tales of Christmas Crime. He is not now, nor has he ever been, a member of the Communist Party.