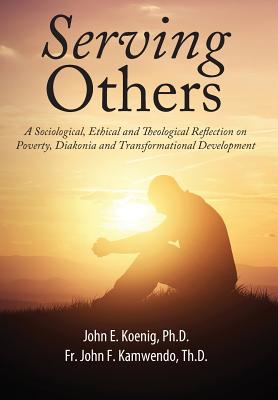 Serving Others
A Sociological, Ethical and Theological Reflection on Poverty, Diakonia, and Transformational Development
Hardcover

* Individual store prices may vary.
Other Editions of This Title:
Paperback (2/27/2017)
Description
Serving Others: A Sociological, Ethical and Theological Reflection on Poverty, Diakonia, and Transformational Development
Serving Others is more than a research-based theological contribution--it's a powerful call to action backed by God's word.
John E. Koenig, PhD, and Fr. John F. Kamwendo, ThD, prove with Scripture passages, quotes from scholars, philosophers, theologians and an edifying case study that God expects us to liberate and empower others, particularly those who are poor, vulnerable, and disenfranchised. Koenig and Kamwendo also offer concrete suggestions for how Christians and non-Christians alike, business and government leaders, and professors and students of theology can help others through diakonia (service) and transformational development. The authors stress the assurance that under God's guiding hand, each of us can and should provide selfless acts of kindness and mercy, in the process raising others up to eventually help themselves and others in an ongoing circle of compassion.
Outskirts Press, 9781478781585, 502pp.
Publication Date: February 27, 2017