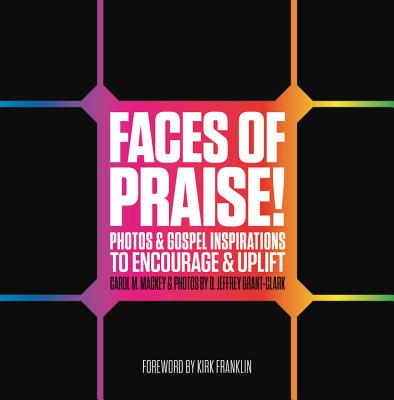 Faces of Praise! (Hardcover)
Photos and Gospel Inspirations to Encourage and Uplift
FaithWords, 9781478917526, 176pp.
Publication Date: October 17, 2017
* Individual store prices may vary.
Description
This full-color photo gift book that turns chart-topping contemporary gospel music into Bible-based devotions is a three-way blessing for readers: a perfect companion to favorite gospel recordings, an encouraging devotional and a unique photo collection.
FACES OF PRAISE! turns your favorite contemporary gospel songs into Bible-based devotions.
Here are never-before-seen full-color images of 60 top contemporary gospel singers, taken on stage as they led worship concerts. The photos capture the artists as they praise, revealing their passion for God, and inspiring in you the hope, joy, and endurance expressed in their music.
FACES OF PRAISE! pairs the most popular, uplifting songs of these gospel greats with scripture, inspirational text, and prayers.
So get your praise on because this book is a three-way blessing-it's a perfect companion to your favorite gospel recordings, an encouraging daily devotional, and a unique photo collection. Artists included:
Yolanda Adams
Shari Addison
Crystal Aikin
Rance Allen
Vanessa Bell Armstrong
Amber Bullock
Kim Burrell
Jonathan Butler
Myron Butler
Shirley Caesar
Byron Cage
Erica Campbell
Kurt Carr
Jacky Clark-Chisholm
Dorinda Clark-Cole
Tasha Cobbs
Joann Rosario Condrey
Y'Anna Crawley
Andraé Crouch
Kirk Franklin
Travis Greene
Deitrick Haddon
J. J. Hairston
Fred Hammond
Tramaine Hawkins
Israel Houghton
Keith "Wonderboy" Johnson
Le'Andria Johnson
Canton Jones
John P. Kee
Deon Kipping
Mary Mary
Donnie McClurkin
William McDowell
VaShawn Mitchell
J. Moss
William Murphy
Jason Nelson
Charisse Nelson-McIntosh
Smokie Norful
Kelly Price
Hart Ramsey
Marvin Sapp
Karen Clark Sheard
Kierra Sheard
Richard Smallwood
Micah Stampley
Kathy Taylor
Tonéx
Tye Tribbett
Trin-i-tee 5:7
Uncle Reece
Hezekiah Walker
The Walls Group
Melvin Williams
Michelle Williams
BeBe Winans
CeCe Winans
Marvin Winans
Vickie Winans
About the Author
Carol M. Mackey is author of SISTERGIRL DEVOTIONS: Keeping Jesus In The Mix on the Job. She is the former Editor-in-Chief and Brand Ambassador of Black Expressions Book Club, the largest direct-to-consumer book club for African Americans in the nation. Mackey sits on the Board for the National Book Club Conference and the African-American Literary Awards Show.
B. Jeffrey Grant-Clark served as the Vice President of Radio Promotions & Artist Relations for the Gospel label Verity Records (RCA Inspiration) and has been photographing gospel artists for his personal collection for decades. Grant-Clark is a member of Living Faith Ministries International, Mt. Vernon, New York under the leadership of Bishop Dominic Allotey. He serves as an Associate Pastor and Minister of Music. Grant-Clark is happily married to a wonderful woman, Annette, father to three "kid-ults," Dawn, Damone and Melanie, and grandfather to four girls, Madison, Morgan, Mia and McKenzie, and the latest addition: a grandson, Samuel Benjamin.