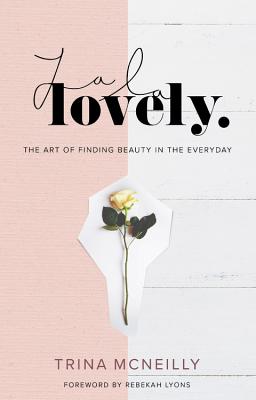 La La Lovely (Hardcover)
The Art of Finding Beauty in the Everyday
Faithwords, 9781478920762, 400pp.
Publication Date: April 10, 2018
* Individual store prices may vary.
Description
LA LA LOVELY shows you that beauty is right in the center of the mess of life. Author Trina McNeilly has been blogging for nearly a decade. While she spent her days sharing beauty, looking for lovely things, and redecorating her childhood home, her parents' unexpected divorce shattered her ideals of "home."
Through this journey, Trina learned that beauty is not beyond the laundry pile, chipped paint, dirty dishes, broken table or broken life. It's right in the center of it. Trina found that God IS beauty. And that he invites us to look, discover, uncover and find because when we find beauty, we find God. In LA LA LOVELY, Trina shares stories and inspiration from her journey of finding, and being found, by beauty. You will find deep matters of the heart along with practical pointers on things like decorating your home, finding your style, and creating beautiful spaces. Each chapter offers essays, beautiful photographs, design tips, and practical advice for creating a place of beauty and belonging no matter where you live or what you're going through.
About the Author
TRINA MCNEILLY is a writer and founder of La La Lovely, where she has been blogging for nine years, sharing matters of the heart and design related finds. With an eye for beauty, Trina finds inspiration in styled spaces, other times in the broken places, and everywhere in between. Through soulful writing, in the voice of trusted friend, she shares her finds and all about being found. Trina's work also includes creative direction, styling, and design projects. Trina lives in her hometown, near Chicago, with her husband, and four children.