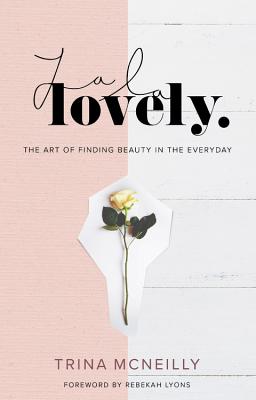 La La Lovely
The Art of Finding Beauty in the Everyday
Hardcover

* Individual store prices may vary.
Description
Through beautiful designs and imagery, LA LA LOVELY invites readers to find their true identity where there is brokenness, discover the love of God, and design their own special place of beauty.

Author Trina McNeilly has been blogging for nearly a decade. While she spent her days sharing beauty, looking for lovely things, and redecorating her childhood home, her parents' unexpected divorce shattered her ideals of "home."
Through this journey, Trina learned that beauty is not beyond the laundry pile, chipped paint, dirty dishes, broken table or broken life. It's right in the center of it. Trina found that God IS beauty. And that he invites us to look, discover, uncover and find because when we find beauty, we find God.

In LA LA LOVELY, Trina shares stories and inspiration from her journey of finding, and being found, by beauty. You will find deep matters of the heart along with practical pointers on things like decorating your home, finding your style, and creating beautiful spaces. Each chapter offers essays, beautiful photographs, design tips, and practical advice for creating a place of beauty and belonging no matter where you live or what you're going through.
Praise For La La Lovely: The Art of Finding Beauty in the Everyday…
"Trina's soul is not unlike her innate design sense. It's deep and searching, forever shifting to make room, to carve space, to find a new purpose for it all - the hardship and shiplap, the mundane and the mirror, the strife and the sofa. What a beautiful gift it is to witness such transformations in her living room and living heart."
—
Erin Loechner, Founder of DesignforMankind.com and Author of Chasing Slow
"Every inch of this book - the images, the words, and Trina's story of losing and finding - is a call to consider how beauty heals us. Not the slick, glossy pretty of perfect worlds. But the hard-won beauty of everyday loving and living. Maybe most of all, these pages remind us of hope we all need to hear: that even life's endings can become beautiful beginnings in God's hands."
—
Leeana Tankersley, author of Begin Again
"Trina's book is lovely, but the words and content inside massively exceed the beauty of the cover. This is a book that embraces the tension of "and". We can talk about lovely things AND talk about real things. We can embrace the artistry around us, we can enhance the beauty we find, AND we can also see the broken, partnering with God in redeeming it all. Reading this, you'll be encouraged and spurred on, inspired and ignited to find the lovely around you AND equipped to add to it. I can't suggest it enough!"
—
Jess Connolly, speaker and author of Wild and Free and Dance Stand Run
"Trina wears her heart on her sleeve-and for that I'm grateful. Her message of grace overcoming loss is a gift to all of us. The heartfelt honesty on these pages will meet you like an old friend."
—
Gabe Lyons, President, Q and author of Good Faith
"Trina McNeilly views the unswept corners of life through the persistent gaze of beauty and the outcome is contagious. With the eye of a designer, the soul of a poet, and the compassion of a daughter deeply loved by God, Trina helps us bring order to our hearts along with our living rooms. Fun, warm, and vulnerable to the core, I devoured this book."
—
Shannan Martin, author of Falling Free: Rescued From the Life I Always Wanted
"I've experienced a tragedy that left me with more questions than hope, wanting to close down my heart and stop searching for truth. For me, turning the corner on events like this come from thoughtful and vulnerable discussion with others. That is what I experience from Trina's book-heartfelt and honest storytelling that helps me deeply reflect and inch closer to truth."
—
Barrett Ward, CEO/Founder of ABLE
FaithWords, 9781478920762, 400pp.
Publication Date: April 10, 2018
About the Author
Trina McNeilly is a writer and founder of La La Lovely, where she has been blogging for nine years, sharing matters of the heart and design related finds. With an eye for beauty, Trina finds inspiration in styled spaces, other times in the broken places, and everywhere in between. Through soulful writing, in the voice of trusted friend, she shares her finds and all about being found. Trina's work also includes creative direction, styling, and design projects. Trina lives in her hometown, near Chicago, with her husband, and four children.
or
Not Currently Available for Direct Purchase