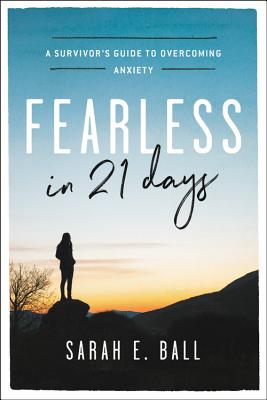 Fearless in 21 Days
A Survivor's Guide to Overcoming Anxiety
Paperback

* Individual store prices may vary.
Other Editions of This Title:
Digital Audiobook (1/22/2018)
Hardcover (1/23/2018)
Description
Fearless in 21 Days is a testimony of hope and a day-by-day guide to healing the mind using mental, emotional, physical, and spiritual applications for those bound by crippling fear, anxiety, panic disorders, and depression.

In the summer of 2013, family and friends watched helplessly as author Sarah E. Ball spiraled into the darkest season of her life. A passionate woman of God, wife, mom of five, and popular blogger, Sarah nevertheless found herself abruptly taken captive by a severe anxiety and panic disorder that left her bedridden for months. Those around her were shocked at her fast derailment because she had always been a very strong, dependable woman. With time and perseverance, her determination and faith in God led her out of anxiety and into a place of complete freedom.

After Sarah found deliverance from mental illness she was determined to reach back into the pit and pull the next person out. She began sharing the intimate details of her breakdown and recovery with her readers, creating an online series Fearless in 21 Days as a daily guide to overcoming anxiety. After the series gained an increasing amount of attention, Sarah expanded the series into an award-winning full book manuscript.

In Fearless in 21 Days, Sarah takes the readers through 21 revelations that focus on healing the whole self-body, mind, and soul-and bridging the gap between effective mental health therapies and Scripture. The book begins with practical tips that can dramatically reduce the immediate symptoms of anxiety and then dives deeper into spiritual and mental truths to create a hope-filled guide to freedom from anxiety so that readers may boldly and bravely fulfill their purpose in Christ-fearlessly.
Praise For Fearless in 21 Days: A Survivor's Guide to Overcoming Anxiety…
"FEARLESS IN 21 DAYS is the remarkable story of one woman's victory over her anxiety disorder. But it is much more than that. It's a resource and guide to help conquer the fear that's at the heart of this disorder. It uses biblical truth to clear up many of the misconceptions that swirl around this mental illness, and yet it emphasizes the importance of well-rounded therapies that address a person's physical, mental, emotional, and spiritual needs. Best of all, it provides a day-by-day plan that puts readers on the road to recovery, too."—Jolene Philo, author of Does My Child Have PTSD: What To Do When Your Child Is Hurting from the Inside Out

"A recommended read providing candid, common sense on a debilitating mental health issue. The author's own struggle to overcome the crippling effects of anxiety, is both elementary and encouraging. This is a book that neither simplifies the issue nor shames the one who struggles, while giving proper place to both the power of prayer and the importance of medical intervention when required. I particularly liked the focus on healthy mind, body and spirit interventions and will recommend it to colleagues and clients alike."—Marion Goertz, DMin, RP, RMFT, CTS, RST, CEFT

"It's pretty easy to be fear-filled in today's tumultuous world, but whether your anxiety is overtaking you or is just a subtle theme in the background of your mind, Sarah Ball's own epic battle with depression and anxiety brings incredible hope to all of us. Your reality today does not have to be your forever and Sarah shows us step by step how to walk out of full blown anxiety into a life of peace and hope. This is a must read!"—Cheryl Weber, Co-host & Senior Executive Producer, 100 Huntley Street

"FEARLESS IN 21 DAYS is your breakthrough in a book. Whatever your story, Sarah will show you that you can live a fearless and joyful life. She thought she would never survive anxiety and depression, yet she did, and she's living proof that you can overcome too. The wisdom of Sarah's whole life approach shows that healing an anxiety disorder is not just a physical problem fixed by medication, nor a spiritual problem healed by prayer, nor a mental issue prevented by therapy. It is all of the above. Following Sarah's insights will give you a prognosis for wellness."—Bob Jones, Lead Pastor, North Pointe Church, Edmonton, Alberta

"As a speaker/author and someone who struggles with mental health I have been thinking of writing a book on the subject. I was halfway through the book and said to myself there is no need to write a book because Sarah says it all. Biblical, practical, vulnerable and basically something for everyone no matter where you are in your journey. Moving towards wholeness from brokenness. Must read for anyone struggling with any form of mental health."—Brett Ullman, speaker, author, blogger

"FEARLESS IN 21 DAYS has set me on a new path in life. A path of freedom. I have suffered with fear, anxiety, and OCD for 23 years. Through Sarah's practical daily applications, I was able to one by one kick them to the curb. She weaves the entire book together with God's word, grace, and especially his love. By being so vulnerable and transparent on how God has freed her, she is even more capable to show you how to take God's hand and walk toward your freedom."—Regina Hernandez

"From the moment we began our interview with Sarah Ball on Lifeline Today, we knew that her story was one that had to be told. FEARLESS IN 21 DAYS is an instructional and faith filled guide to overcoming crippling anxiety. As pastors and television ministers, we will be placing this into the hands of as many anxiety sufferers as we can. For ministry leaders, this book is an invaluable tool to better equip you to counsel others. Sarah's vulnerable story of her personal journey out of anxiety, OCD, and depression, along with practical tools, spiritual truths and unwavering faith makes this book beyond inspiring."—Dick and Joan Deweert, pastors of Third Day Church, founders of Dominion Media, and cohosts of Lifeline Today

"I am so excited for FEARLESS IN 21 DAYS to get into the hands of so many people who need to hear this message. Not only for the people struggling with anxiety, but also for the loved ones in their life in order to help them understand and overcome. This book carries such an amazing message of hope and encouragement that is so needed in today's society. Her story from beginning to end is a perfect representation of how the Father restores all that anxiety and fear have taken away from your life. This book has definitely impacted me and will continue to be a guide to look back on again and again on my journey to wholeness. Thank you, Sarah, for releasing such an amazing message to the world."—Delia Wollmann

"Sarah meets us in our place of hardship, where anxiety has a stronghold on our lives, and through her conversational style, her own life experiences, moments of humor, and biblical discernment, guides us on a journey towards a whole healing of our mind, body, and spirit."—Sally, Christian, wife, and mother of two

"Sarah Ball's personal stories are relatable to women drowning in their own anxiety and depression, yet she throws them a lifeline of hope and light. Her candor and humor are also refreshing in a society where so many feel they need to hide behind a curtain of shame. Many thanks to Sarah for writing a book that will no doubt help thousands, if not millions, of women overcome their deepest pain... and then encourage them to be fearless!"—Elizabeth Oates, author of Mending Broken Branches, co-founder of Project Restoration Ministry

"In a world where anxiety and depression is the highest mental health disorder diagnosed daily, Sarah Ball writes Fearless in 21 Days with a brave voice. She is fearless in addressing issues that are taboo in society and that people don't want to talk about or afraid to expose of their lives. She isn't afraid to get her hands messy and share about panic attacks, medication or what it takes to face crippling anxiety and pressing forward to a life of freedom. She makes no qualms about the journey, but doesn't stay stuck on the negative either. She is realistic and bold. With practical truth, tools and humor, this book is refreshing. This book will not only help hundreds, but thousands who have been held captive for so long who aren't sure how to handle their deepest wounds. Sarah has written a book that has the reader learn to live fearlessly and joyfully. Her approach is different and is one that applies to your entire being; mind, soul and body. This is a great a book and wonderful resource. I highly recommend this book and truly enjoyed it. I give this book 5/5 stars."—Goodreads
FaithWords, 9781478922889, 192pp.
Publication Date: January 22, 2019
About the Author
Sarah E. Ball is a blogger, speaker, and mom of five children who uses her platform to minster to people suffering from crippling anxiety disorders, panic disorders, and depression. She now regularly appears as a host and guest on several national television programs, thankfully learning early on that over-sprayed high hair doesn't fare well on the TV screen. Sarah has been a columnist for City Light News for five years and is a regular contributor for FunandFaith.ca, as well as a regular guest blogger at To Love Honor and Vacuum.