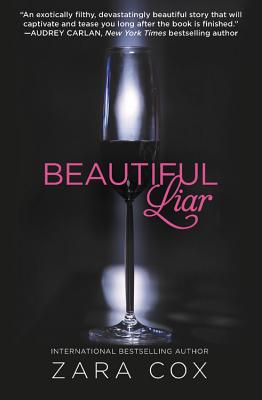 Beautiful Liar (Dark Desires #1) (Paperback)
Forever, 9781478945383, 400pp.
Publication Date: April 11, 2017
Other Editions of This Title:
Digital Audiobook (9/12/2016)
* Individual store prices may vary.
Description
"An exotically filthy, devastatingly beautiful story that will captivate and tease you long after the book is finished." -Audrey Carlan,
New York Times
bestselling author
Previously published as Porn StarPeople call me many things: CEO, billionaire, bastard. Q.
I love women. I love sex. I love money. I love hot, wild nights with no promise of a future, because a future is one thing I don't have. I'm twenty-eight years old. I won't live to see thirty, and I don't care. Or I didn't, until her.
Nobody plans for a life like this. Some of us just end up here.
They call me Lucky, though luck has never been on my side. Before I met Q, my life was a big, twisted mess. Never enough money, never anyone to trust. No way out. With Q, the shame and fear disappear. Instead I feel pure pleasure, and that's something I've never had before. But if what I've just learned is true, we'd better enjoy every second together while we can...before our time runs out.
About the Author
Zara Cox has been writing for almost twenty-five years but it wasn't until nine years ago that she decided to share her love of writing sexy, gritty stories with anyone outside her close family (the over 18s anyway!). This series is Zara's next step in her erotic romance-writing journey, and she would love to hear your thoughts. Visit her @
zaracoxwriter.com
twitter: @zcoxbooks
facebook: Zara-Cox-Writer-210922862391617/
Praise For Beautiful Liar (Dark Desires #1)…
"Recommended for dark erotica fans seeking a twisted thriller à la 50 Shades."—LibraryJournal.com

"An exotically filthy, devastatingly beautiful story that will captivate and tease you long after the book is finished."—Audrey Carlan, New York Times bestselling author

"4 1/2 Stars! Top Pick! Cox writes a character who is so beautifully twisted by a past filled with lies, tragedy and misplaced trust. The hero struggles to stay sane while everything and everyone is trying to drag him under. Being in control keeps him going through the motions, but he has dark secrets that he will soon reveal, and he doesn't care who he hurts in the process, including himself. Lucky is just as damaged, but she sees only redeeming qualities in Q, wanting to help him save himself. A wonderfully written tale that will have readers rapidly turning the pages to find out what happens next. A truly amazing story that you will definitely want to read over and over."—RT Book Reviews

"A page turner until the very end. Shockingly erotic, dark and tumultuous, Porn Star will test your boundaries as a reader, and you'll love every minute of it!"—Ramblings From a Chaotic Mind on Porn Star