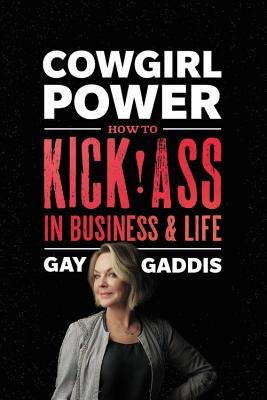 Cowgirl Power
How to Kick Ass in Business and Life
Hardcover

* Individual store prices may vary.
Other Editions of This Title:
Digital Audiobook (3/19/2018)
Paperback (1/22/2019)
MP3 CD (3/20/2018)
Compact Disc (3/20/2018)
Description
Kick Ass Your Way
As the owner of one of the largest woman-owned advertising agencies in the U.S., Gay Gaddis knows a thing or two about empowerment. Gay's insights are rooted in the spirited strength of the real cowgirl heroines of the 1920s and '30s-gutsy risk -takers in everything they did. In Cowgirl Power, these cowgirls are celebrated as a metaphor for the power we all have to achieve far more than we think.
Whether your goal is to start a family, own a business, advance your career, organize community outreach, or run for office, it all comes down to power: knowing how to develop it and not being afraid to take it when it comes your way.
Gay's book and Cowgirl Power Toolkit will help you blaze a path to success, on your terms:
Taking responsibility for yourself
Building your own competence
Finding your assertiveness
Designing your own life
Building a kick-ass culture
Recognizing good ideas
Becoming a fearless leader
Cowgirl Power
is not about changing you. You are just fine. It's about understanding your strengths, building on them, and unlocking your power to kick ass-your way.
Praise For Cowgirl Power: How to Kick Ass in Business and Life…
"COWGIRL POWER is a book about embracing your story and your power. Gaddis, a fellow Texan who built her successful business from the ground up, shares her hard-won and thought-provoking wisdom on showing up and getting it done. It's a great combination of storytelling, actionable strategy, and a fun history of some of the cowgirls that came before us."—Brené Brown, Ph.D., Author of the #1 New York Times bestseller Braving the Wilderness

"Cowgirls are the ones who don't back down from anything or anyone. The ones who work harder and keep playing until they get it right. Gay Gaddis calls this 'Cowgirl Power.' Her stories give women a clear path to find their own personal power."—Billie Jean King

"With straight talk, humor and a healthy dose of Texas grit, COWGIRL POWER inspires women everywhere to build on their strengths in order to purposefully create a fulfilling life - both at home and at work. The no-nonsense strategies shared in the book for both personal and organizational development are easy to understand and designed to spur immediate action. I'm going to keep my copy close by!"—Melissa Reiff, CEO, The Container Store

"Gay expects to win and she does. She prepares to win and when "winning" seems "natural," it becomes natural. Gay creates an attitude that others want to share. You can do the same. Her "Kicking Ass" is so inviting you want to be part of it."—Red McCombs, Owner, McCombs Enterprises, co-founder of Clear Channel Communications

"Gay's warmth, cowgirl tenacity, and business savvy are all wrapped up in an easy to read, funny, honest book. Her desire to help women is evident in every chapter. This is a must-read for aspiring and current business leaders both male and female. Her message is clear, women must support and nurture each other."—Doreen Lorenzo, former executive at Frog

"I galloped through Gay's compelling book, COWGIRL POWER, in which she shares her strategies and relatable stories about overcoming obstacles, fears and building personal power. I highly recommend this superb read for anyone seeking career and personal growth."—Joyce Russell, President, Adecco Staffing US

"COWGIRL POWER is a lexicon and 'must read' for those who want to learn how to do and have it all - with grace, integrity and competence."—Larraine Segil, Author of Intelligent Business Alliances, Fast Alliances, Dynamic Leader Adaptive Organization, Partnering the New Face of Leadership, Measuring the Value of Partnering, and Belonging

"Gay Gaddis epitomizes the ideal of a successful, modern Cowgirl. Her personal stories and insights are both funny and poignant. There is no singularly successful leadership profile, but Gay Gaddis' COWGIRL POWER offers a compelling, entertaining, and poignant role model for modern female business leaders."—Lynn Utter, Chief Executive Officer and board member for First Source

"Power is there for the taking, Gay Gaddis explains, and through this book she helps readers find and summon their own. Gay is a living embodiment of the cowgirls she so admires and their "braveness, authenticity and grit." Read Cowgirl Power and learn how this pioneering Texan built her own successful business and life - and come away ready to take on the world!"—Karen Hughes, Author, Former Press Secretary President George Bush, Global Vice Chair

"As the father of an amazing daughter, who is an aspiring author and entrepreneur herself, I can confidently confirm that Gay's book is an invaluable and much needed resource. The future of business is increasingly female (thankfully) and Gay is a very motivating force for what's possible."—Brett Hurt, founder of Bazaarvoice, Coremetrics, data.world, and Hurt Family Investments

"Gay takes an unapologetic approach to dispensing valuable lessons that results in both a delightful and insightful read. My favorite quote: Be aware of people who are intimidated by people smarter than themselves. I couldn't have said it better."—Hala Moddelmog, President & CEO, Metro Atlanta Chamber, former CEO Arby's Restaurant Group

"I thought I would know everything in the Cowgirl Toolkit. But after reading Gay Gaddis' journey, and understanding her business acumen and hard fought wisdom, I realized I still have a lot to learn. This cowgirl kicked my ass."—Marcy Maguire, CEO, Maguire Automotive

"A fresh and fun approach from a long term entrepreneur in how to be fearless in the face of adversity and opportunity alike. I so love the analogy of actual Cowgirls in the Wild West as trail guides! Chocked full of insights and important life lessons for women of all ages today."—Jan Ryan, CEO, 3Hills Ventures

"Equal parts memoir, history lesson and kick in the pants, Gay's book is a road map to help readers learn to embrace their gifts, bolster their confidence, and build the life they desire. I'm excited for my teenage daughter to read this and learn from it as she approaches adulthood and embarks on her life and career."—Justin Yancy, President, Texas Business Leadership Council
Center Street, 9781478948216, 288pp.
Publication Date: January 23, 2018
About the Author
Gay Gaddis is CEO and Founder of T3. In 1989, she started her company after cashing in a $16,000 IRA. Today, T3 has offices nationwide and creates innovative digital marketing programs for Fortune 200 clients. T3 is a top-ranked innovation firm and one of the largest agencies owned by a woman. Gay has been nationally recognized for the unique family-friendly policies she has initiated at T3.

Gay is on the Board of Directors of Monotype Imaging Holdings and on the Dean's Advisory Council to The University of Texas McCombs School of Business. She is also the first female Chairman of the Texas Business Leadership Council. Gay is a regular contributor to Forbes, and her Texas landscapes have been featured in galleries in New York and Texas. She and her husband own the Double Heart Ranch in the Texas Hill Country.
or
Not Currently Available for Direct Purchase