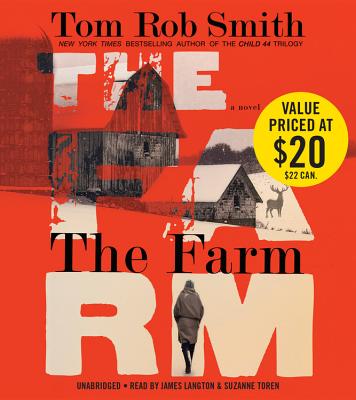 The Farm
CD-Audio

* Individual store prices may vary.
Other Editions of This Title:
Digital Audiobook (2/12/2014)
Digital Audiobook (6/2/2014)
Paperback (2/24/2015)
Hardcover (6/3/2014)
Hardcover, Large Print (6/3/2014)
Paperback (2/12/2015)
Compact Disc (6/3/2014)
CD-Audio (2/24/2015)
Description
The international bestseller from the author of phenomenal Child 44 trilogy?Ķ

The Farm

If you refuse to believe me, I will no longer consider you my son.

Daniel believed that his parents were enjoying a peaceful retirement on a remote farm in Sweden. But with a single phone call, everything changes.

Your mother...she's not well, his father tells him. She's been imagining things - terrible, terrible things. She's had a psychotic breakdown, and been committed to a mental hospital.

Before Daniel can board a plane to Sweden, his mother calls: Everything that man has told you is a lie. I'm not mad... I need the police... Meet me at Heathrow.

Caught between his parents, and unsure of who to believe or trust, Daniel becomes his mother's unwilling judge and jury as she tells him an urgent tale of secrets, of lies, of a crime and a conspiracy that implicates his own father.
Praise For The Farm…
"This concluding installment [is] another first-class, must-read crime novel...In [the] first two volumes, Smith brilliantly illuminated the horrors of Stalin's Russia and the Gulag. He also gave readers Leo Demidov, duty-bound, introspective, enduring, and ultimately a figure both tragic and heroic."—Booklist on Agent 6 (starred review)

"A gripping, relentless whodunit plot...Most readers will reach the final page with regret and in awe of Smith's uncompromising vision of the realities of a police state and the toll it takes on those caught in its meshes."
—Publisher's Weekly on Agent 6 (starred review)

"An old-fashioned thriller that would do Ludlum and le Carré proud...A big book, in every sense, that's sure to draw attention."
—Kirkus on Agent 6 (starred review)

"When a trilogy is as unpredictable and riveting as Tom Rob Smith's Child 44 series, set as it is both in the harsh Russian landscape and the dense thicket of the human soul, expectations quickly evaporate in a page-turning frenzy....Smith, a young British screenwriter turned best-selling novelist, has created in Leo Demidov a Kafkaesque modern hero for our times, a good man trapped in a corrupt, manipulative system, forced to choose between loyalties to family, country and conscience. With a cinematographer's eye for settings and historical detail, Smith uses Leo's journey to examine larger issues, especially the political, social and religious systems that both unite and divide us."—BookPage on Agent 6

"Fortified by formidable details of Soviet history, Smith's closing volume of the Leo Demidov trilogy (Child 44; The Secret Speech) knits together iconic characters and elements...Fans of Smith's first two books will avidly seek out the final chapter, though this one stands on its own as well. The Afghan interlude is a searing echo of today's headlines, while the buildup of suspense over several decades is the armchair equivalent of a jaw-jarringly extreme ride at an amusement park."—Library Journal on Agent 6

"Tom Rob Smith secures his place in the pantheon of crime writers with this taut, absorbing conclusion to the trilogy he so brilliantly began with Child 44 and The Secret Speech."—On Agent 6 -- Amazon's Best Books of the Month for January

"Agent 6 has all the elements that made the first two books in the series hits: relentless action, a flawed but fascinating protagonist and a clear-eyed view of the absolute brutality of an authoritarian government."—Dallas Morning News on Agent 6

"The best thrillers combine narrative tension, first-rate plotting and enough psychological insight to satisfy the human hunger for identification...Smith can do all this."—The Guardian on Agent 6

"With Agent 6, Smith has created an epic finale...Smith has a gift for sharply-etched characterization...A twisty thriller in a class with le Carré, Agent 6 is a satisfying culmination to the trilogy."—Suspense Magazine on Agent 6

"Tom Rob Smith is a name to watch."—Agent 6 -- Ten Best Crime Novels, Independent

"An intricate game, a history lesson, philosophy in action."—Juxtabook on Agent 6

"Superb ... action-packed, immaculately researched ... pungent and powerful."—Metro on Agent 6

"The phrase 'master storyteller' simply cannot do him justice...The curtain may have fallen on this particular dark tale, but it has been well and truly raised on a new talent who looks set to be entertaining and moving us for many decades to come."—Scotsman on Agent 6

"Tom Rob Smith is back, from Russia without love. Reading his books is a roller coaster experience ... In the amusement park of contemporary literature, Smith's attractions are among the most exciting ones."—Corriere della Sera on Agent 6

"After the stunning Child 44... comes the sweeping, brilliant finale of his Cold War epic."—Mirror on Agent 6

"[Agent 6 has] an improvised feel, a terrific, freewheeling energy and pace, to which Rob Smith's non-nonsense prose is perfectly suited."—Daily Telegraph on Agent 6

"In Smith's hands [the] scenes attain a pulse of exhilaration worthy of Dickens by way of Conrad...a broadening of moral scope and thematic richness."—Dennis Lehane for The New York Times Book Review on The Secret Speech

"His mastery of suspense will make any reader's heart pound."—Financial Times on Child 44
Grand Central Publishing, 9781478953128
Publication Date: June 3, 2014
About the Author
International #1 bestselling author Tom Rob Smith graduated from Cambridge University in 2001 and lives in London. His novels in the Child 44 trilogy were New York Times bestsellers and international publishing sensations. Among its many honors, Child 44 won the ITW 2009 Thriller Award for Best First Novel, The Strand Magazine 2008 Critics Award for Best First Novel, the CWA Ian Fleming Steel Dagger Award, and was longlisted for the Man Booker Prize.
or
Not Currently Available for Direct Purchase