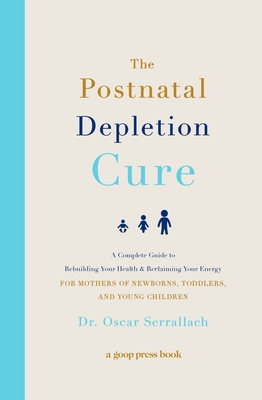 The Postnatal Depletion Cure
A Complete Guide to Rebuilding Your Health and Reclaiming Your Energy for Mothers of Newborns, Toddlers, and Young Children
Paperback

* Individual store prices may vary.
Other Editions of This Title:
Digital Audiobook (6/4/2018)
Hardcover (6/5/2018)
Compact Disc (6/5/2018)
Compact Disc (6/5/2018)
Description
While postpartum depression has become a recognizable condition, this is the first book to treat root causes of mommy brain, baby blues, and other symptoms that leave mothers feeling exhausted.

Any woman who has read What to Expect When You're Expecting needs a copy of The Postnatal Depletion Cure. Filled with trustworthy advice, protocols for successful recovery, and written by a compassionate expert in women's health, this book is a guide to help any mother restore her energy, replenish her body, and reclaim her sense of self.
Most mothers have experienced pain, forgetfulness, indecision, low energy levels, moodiness, or some form of baby brain. And it's no wonder: The process of growing a baby depletes a mother's body in substantial ways--on average, a mother's brain shrinks 5% during pregnancy, and the placenta saps her of essential nutrients that she needs to be healthy and contented. But with postnatal care ending after 6 weeks, most women never learn how to rebuild their strength and care for their bodies after childbirth. As a result, they can suffer from the effects of depletion for many years, without knowing what's wrong as well as getting the support and treatments that they need.
Praise For The Postnatal Depletion Cure: A Complete Guide to Rebuilding Your Health and Reclaiming Your Energy for Mothers of Newborns, Toddlers, and Young Children…
"When Dr. Serrallach first wrote about postnatal depletion on goop, he hit a nerve-particularly with the revelation that some women in his practice experience the after effects of having a child for 7-10 years later. It shouldn't be this way, nor does it have to be: This is the comprehensive guide to women's health for every mother-new, or years out-who has ever felt tired, rundown, or just not like herself. c using nutrition, gentle exercises, and simple strategies to get you to finally feel like yourself again."—Gwyneth Paltrow

"The Post-Natal Depletion Cure is a groundbreaking perspective on women's health, which offers hope and practical information in equal measure for Mothers who are beyond exhausted. Like so many women, I struggled to reclaim my energy after having children and felt frustrated by the general lack of information about women's health in the postnatal phase. This book considers the science of pregnancy, birth and the postnatal phase through the lens of functional medicine, within the context of the modern world. I would recommend Dr. Serrallach's book to all Mothers."—Penélope Cruz

"The best programs and solutions for health issues are born of doctors that want to help themselves or their loved ones. That is how Dr. Serrallach arrived at his understanding of postnatal depletion, and what makes this book so helpful to women with the same issue, which is a world epidemic. His book is aguide to reclaiming optimal health that any mother who has given birth in the last seven years should read."
—Alejandro Junger, M.D., New York Times bestselling author of Clean, Clean Eats, and Clean Gut and founder of the acclaimed Clean Program

"Thank you Dr. Serrallach for writing this very eye opening and super important book! Postnatal depletion effects all moms, new or years out. It's so important to properly take the time and space to heal from your pregnancy and birth especially, in a culture where "getting back to normal quickly " is applauded. We all know it takes time for the new normal to work itself out, and you can't rush a process if you want it to have lasting, good and healthy results. I'm literally making all my clients and their partners read this as part of my pregnancy, doula and new mom coaching!"—Lori Bregman, celebrity doula, pregnancy and new mom coach; author of The Mindful Mom To Be

"Moms, let's be real: having a baby is hard. It can wreak havoc on your energy, your body, and even your concentration. Post-baby, women need to practice self-care more than ever before, yet have less time than ever before. With great compassion and creativity, Dr. Serrallach proposes an answer-we can make little changes to our sleep habits, our eating habits, the way we talk to our loved ones, and to our expectations for ourselves to protect and fortify ourselves every day. Every woman deserves good health, and The Postnatal Depletion Cure will show you how to reclaim yours."—Dawn Dais, author of The Sh!t No One Tells You: A Guide to Surviving Your Baby's First Year

"Dr. Serrallach [focuses] on finding the antidote for this once-taboo topic...a must-read for all mothers."—TeatandCosset.com
Grand Central Publishing, 9781478970316, 304pp.
Publication Date: June 7, 2022
About the Author
Dr. Oscar Serrallach MBChB FRACGP is a Doctor of Functional Medicine with a special interest in Post-Natal Wellbeing. His initial studies in Functional Medicine coincided with starting a family, which led him to consider the science through the particular lens of pregnancy, birth and the post-natal period, observing his own partner and many mothers through his clinical work. Since 2010, he has dedicated his work towards applying Functional Medicine to the condition that he has identified as Postnatal Depletion. He currently lives near Byron Bay, Australia with his partner and their three children.