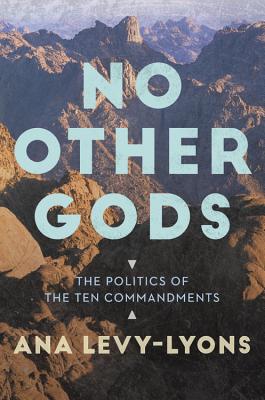 No Other Gods
The Politics of the Ten Commandments
Paperback

* Individual store prices may vary.
Other Editions of This Title:
Hardcover (3/6/2018)
Description
Ana Levy-Lyons, a public theologian who is equally at home in secular and religious worlds, offers a deeply perceptive reinterpretation of the Ten Commandments for our modern lives.

The Ten Commandments are a spiritual resource for social justice. A politically and spiritually brazen prescription for living, the Ten Commandments would turn our world upside down if we actually followed them. Far from being only ethical norms on which everyone already agrees or a remnant of a bygone oppressive era, the Commandments are actually countercultural practices.

Today the Ten Commandments are a divisive part of American culture. Religious conservatives champion them, even if they don't always practice them. Religious liberals and the nonreligious may bristle at what they perceive as antiquated moral restrictions. But, this ancient code still has vital contemporary relevance. Rev. Levy-Lyons explores ways the Commandments bring us meaning, illuminate our values, and help us navigate through the turbulent waters of social injustice, environmental crises, and societal inequity.

No Other Gods looks at each Commandment in new ways, moving beyond interpersonal morality to the global economy and our hyper-connected age. From the first, You Shall Have No Other Gods Besides Me (Dethrone the Modern Deities of Political, Social, and Corporate Power), to the tenth Do Not Covet (Practice Your Liberation-You Have Enough, You Are Enough)-and all those in between-she underscores how the Commandments can produce a bold spiritual consciousness.

Whether you are deeply religious or spiritual-but-not-religious, learn how the Ten Commandments can guide you to resist injustice, heal our earth, and find personal dignity amid the free-for-alls of modern life. "We don't have to invent a bunch of new practices for a meaningful way to live out our spirituality and social justice politics," says Levy-Lyons. "There is a perfectly good set of ten of them, all ready to go, with as much progressive firepower as any of us can handle, that has existed for some three thousand years."
Praise For No Other Gods: The Politics of the Ten Commandments…
". . . extending the meanings of the Ten Commandments to include the many idols and possible ways that a modern person could kill, break trust, or bear false witness, if not directly then with our purchases, our silences, our acquiescence in the corporate systems that surround us, the author has brought these three thousand-year-old commandments back as powerful iconoclastic tools for breaking free." —Natan Margalit, Tikkun magazine

"NO OTHER GODS offers a passionate, biblically-grounded spiritual roadmap for Christians and others seeking a way forward in our age of individualism and materialism. Levy-Lyons translates the ancient ethical wisdom of the Ten Commandments into powerful practices for love, meaning, and impact today. Smart, pastoral, and practical, NO OTHER GODS should be on your shelf."—Rev. Dr. Jacqueline Lewis, Senior Minister, Middle Collegiate Church

"Ana Levy-Lyons has written the book we need right now, NO OTHER GODS: The Politics of the Ten Commandments. This easily accessible, thoughtful and fresh exploration of the ten commandments peels away the layers of conservative fundamentalism so that we can see with new eyes how the ancient wisdom of the ten commandments can support us best at a time when the world is literally on fire.
I work every day with people whose faith has been challenged by the crushing reality of nuclear war, climate change, poverty, and white supremacy crashing in upon us. Through her exegesis of the ten commandments, Levy-Lyons guides us off the brink of despair so we can recommit to live in ways that are personally sustaining and sustaining for the planet. This book is a welcome addition to a growing cadre of work helping us find new sustenance from the roots of our spiritual traditions."—Dr. Sharon Groves, Vice President, Auburn Seminary

"The Ten Commandments come alive again as ancient wisdom is applied to the issues of today with startling clarity and depth. NO OTHER GODS is a compassionate book, responding to the alienation of modern life and helping to irrigate our souls. It is also a sharp challenge to us all, exposing the "other gods" we worship every day and calling us to an elevated way of life. This resource for living spiritual lives in a secular world is a treasure for Jews, non-Jews, and those suffering from 'post-traumatic God disorder.'"—Rabbi David Ingber, Founder and Senior Rabbi of Romemu

"NO OTHER GODS provides spiritual grounding for engagement with the political realities we face today. It is a major contribution to those who have been alienated from religion by its often deadening articulation, and also to those who seek ethical guidance apart from any religion. Ana Levy-Lyons is one of the most significant new voices in theology and cultural theory."—Rabbi Michael Lerner, editor of Tikkun magazine and author of eleven books including the national bestseller The Left Hand of God: Taking Back our Country from the Religious Right
Center Street, 9781478977223, 336pp.
Publication Date: March 5, 2019
About the Author
Ana Levy-Lyons is an observant Jew who is senior minister of First Unitarian Congregational Society in Brooklyn, a quickly-growing urban Unitarian Universalist congregation, where her sermons have received numerous awards. She earned a BA from Brown University and an M.Div. from the University of Chicago Divinity School. Like most Gen Xers, her career has followed a winding path, from founding a web startup to a foray as a singer-songwriter. (She won the SIBL International Songwriting Competition and received a glowing review in Billboard magazine). Levy-Lyons is a contributing editor for Tikkun magazine, has written for HuffPost, and lives in New York City.
or
Not Currently Available for Direct Purchase