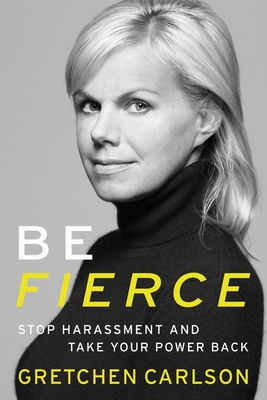 Be Fierce: Stop Harassment and Take Your Power Back (Hardcover)
Stop Harassment and Take Your Power Back
Center Street, 9781478992172, 256pp.
Publication Date: October 17, 2017
Description
When star news anchor, journalist, mother of two, and former Miss America Gretchen Carlson spoke up about sexual harassment in the workplace, she had no idea what lay ahead. But now, inspired by her actions, the floodgates have opened and thousands of women are joining her to Be Fierce and reclaim their power against any abuse or injustice. In BE FIERCE, Gretchen shares her own experiences, as well as powerful and moving stories from women in many different careers and fields who decided they too weren't ready to shut up and sit down. Gretchen became a voice for the voiceless.
In this revealing and timely book, Gretchen shares her views on what women can do to empower and protect themselves in the workplace or on a college campus, what to say when someone makes suggestive remarks, how an employer's Human Resources department may not always be your friend, and how forced arbitration clauses in work contracts often serve to protect companies rather than employees. Her groundbreaking message encourages women to stand up and speak up in every aspect of their lives.
Gretchen also discusses why this fight will require both women and men working together to ensure that our daughters and sons will have a brighter future.
BE FIERCE is a cultural movement and a motivating testament to what we can accomplish if we collectively decide to become warriors in the path for a better future. The time is now. Take back your life, your career, and your dignity.
Learn more at www.gretchencarlson.com.
Twitter: @GretchenCarlsonFacebook: @GretchenCarlsonInstagram: @therealgretchencarlson
A portion of each book sale will go towards Gretchen's Gift of Courage fund.
About the Author
Recently honored as one of TIME's 100 Most Influential People in the World and a 2017 recipient of the prestigious Matrix Award, Gretchen Carlson is one of the nation's most successful and recognized news anchors and a tireless advocate for female empowerment. Formerly, Carlson was co-host of the number-one rated cable morning news show, Fox and Friends, as well as the host of her own signature show, The Real Story with Gretchen Carlson. An honors graduate of Stanford University, Carlson also serves as a trustee for several national non-profit boards and in 2017 established her own fund, Gift of Courage, to empower women and young girls to realize their full potential. Since making the decision to speak out against sexual harassment, she has sparked an international conversation about the pervasiveness of the problem and, in doing so, discovered that every woman has a story.
Advertisement