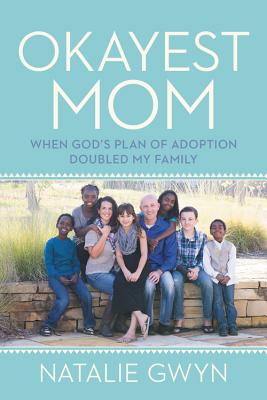 Okayest Mom
When God's Plan of Adoption Doubled My Family
Paperback

* Individual store prices may vary.
Description
Natalie Gwyn uses humor to brilliantly capture how God led and helped this mother of two to adopt four children from Ethiopia and successfully bond her blended family.

A happy, working wife, already birth mother of two healthy young children -- a boy and a girl -- doubled the size of her family by adopting four Ethiopian children. Why?
Her answer: "God."

Popular blogger Natalie Gwyn has been cited widely for her candid, insightful, often humorous writing on cross-cultural adoptive Christian families (which number more than 4 million). HuffPo has linked to her controversial posts and celebrities like Kathie Lee Gifford have quoted and pictured her on social media. Here Natalie tells her whole mom story, including the only-God-could-do-this backstory.

Her lighthearted narrative begins with the nudge of God toward the uncomfortable. She and her husband are almost certain they have misunderstood what the Almighty is asking of them, and with self-deprecating humor Natalie allows readers a glimpse into the process by which this already imperfect mom agreed to transnational, transracial adoption of more children than she already has.

Natalie then takes the reader on her family's adventure to Ethiopia to legally adopt the three siblings God has chosen to add to their family. With the skill of a detective novelist, she reveals their discovery of a fourth sibling, their critical decision not to leave this child behind, and their harrowing quest to find, woo and legally adopt her, too.

Similar to the laugh-out-loud humor of books on blended step-families, Natalie shares the bedroom, bathroom and kitchen scenes of this adoptive family's huge adjustments. She brilliantly captures each child's and each parent's perspective and, in doing so, reveals God in their midst.
Praise For Okayest Mom: When God's Plan of Adoption Doubled My Family…
"OKAYEST MOM is outstanding. It is an honest, tears-and-laughter filled account of God's love weaving family members from two continents together when they have the willingness and courage to live by faith. It made me laugh and cry. Well done!"
—
Francine Rivers, bestselling author of Redeeming Love, Her Mother's Hope, and Her Daughter's Dream
"Gwyn, writer for
For Every Mom
, chronicles raising six children-four of whom were adopted from Ethiopia-in this enjoyable memoir. Although Gwyn had a tidy life plan that she was slowly moving through, her life course was thrown in a new direction after she and her husband decided to use their resources to bring more love into the world and adopt children. Gwyn's description of the chaos that comes with raising six children is funny and poignant. Consistent throughout is her belief that God is present in the midst of it all, directing and supporting her choices. She reports her exhaustion, uncertainty, anger, and frustration as she wrestles with societal expectations of mixed-race families and the nature of the relationship between adopted child and birth mother. Readers may question Gwyn's wisdom in writing some sections in the voices of her children, but her ability to weave her accounts of her adopted children's early experiences in with her descriptions of the challenges of making a new family drives the story. This fearless memoir will inspire readers." (July)—
Publishers Weekly
,
-
"Natalie uses humor and transparency in a redemptive way, through the trials and challenges of the adoptive journey."—
Andy Lehman, VP, Lifesong for Orphans
"Parenting can be a gigantic mess, and most of us feel like failures at it, at least once in a while. Try dropping four kids to your family, from another continent, with a kind of brokenness that makes you want to weep. In WORLD'S OKAYEST MOM, Natalie Gwyn tells the heart-warming, crazy-making, stress-inducing, laugh-out-loud-funny story of a typical family jolted by a four-sibling, international adoption. Along the way, she bares her soul, as pain from her own broken childhood makes her more like her adopted kids than she realized. How will this family of four-turned-eight navigate these epic changes? New noise levels. New messes. New toilets, language, meltdowns, culture shock, school, foods, beds... and new love. Perhaps God's grace will show up in unexpected ways.
"WORLD'S OKAYEST MOM is one of those rare books that inspires hope for broken places in both our society and our own hearts. A must-read. Highest recommendation."—
Dr. Bill Giovannetti, Pastor of Neighborhood Church, speaker, and author of Grace Intervention, Grace Rehab, Grace Breakthrough, and Secrets to a Happy Life
"If you are at all interested in adoption and want a fun, yet informative and encouraging read on the subject I strongly encourage you to dive into Natalie's book. You are sure to be encouraged, strengthened and prepared for whatever challenges lie in front of you."—
Ryan Hall, professional runner, Olympian, U.S. record holder in the half marathon, speaker, author of Running With Joy, and adoptive father
"Natalie Gwyn is an expert at showing how un-expertise is a crucial skill and that the best things in life come to those who are willing to be as okayest as God made them."
—
Rick Hamlin, executive editor of Guideposts magazine and author of Pray for Me
"Natalie's journey will touch and inspire you. As an adoptive mother I hear the label often, but it's not okayest, it is real. Are you their 'real mom?' This book will make those words catch in your throat. This is the stuff that turns a woman into a real mom."
—
Jami Amerine of the blog Sacred Ground, Sticky Floors, author of Stolen Jesus
"A heartfelt, encouraging & power packed book. Natalie's book will give clarity to so many people and encourage them to think about family in a whole new way."
—
Havilah Cunnington
FaithWords, 9781478992486, 256pp.
Publication Date: June 26, 2018
About the Author
Natalie Gwyn is a working wife and mother of six who lives in northern California. To keep from hiding in her closet, she writes what has become a very popular blog.
or
Not Currently Available for Direct Purchase