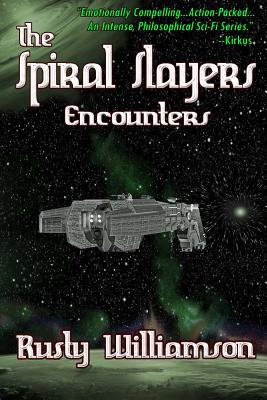 The Spiral Slayers: Encounters (Paperback)
Encounters
Createspace Independent Publishing Platform, 9781479110704, 394pp.
Publication Date: January 1, 2013
Description
On a planet called Amular at the edge of The Great Coma Wall, an alien race called the Loud make contact through Captain Maximus, changing his life forever. The world-shattering impact and political turmoil of the alien contact is only exceeded by what happens when the Loud bestow the gifts they bring. Then an unexpected discovery: something has been coming across the observable universe since the dawn of time and now it is upon them. As the mind-boggling truth is uncovered, it becomes clear that this new alien force intends to destroy Amular while on its way to a far more devastating objective. Neither the Loud nor Amular's inhabitants can hope to stop this force, and there is no negotiating, no surrender and nowhere to run or hide. Book Two, 'The Spiral Slayers: Countdown Armageddon' will be published in July of 2015. Receive updates on new releases by joining the author's mailing list on the author's site or the book's site. Do Look Inside for links to both.
About the Author
Ronald (Rusty) Williamson lives in San Diego CA with his wife Denise and their two dogs. The two just celebrated their 40th wedding anniversary. Both have been retired since 2002. They have two children. Besides writing science fiction, he owns and operates a 3D animation studio, and at a layman's level, has been a fan of quantum physics (Super-strings and LQG) and cosmology since 1980. His other hobbies are archeology, hiking, biking, RC airplanes and playing guitar. Almost every Friday, Saturday and Sunday you can find him and his wife dancing to a live band at some San Diego night club. Before retiring in 2002, he worked as a computer programmer and he and his wife flipped houses in their spare time. In the mid-eighties, he published technical articles for Computerworld. Between 1983 and 1992 he explored the Anza Borrego desert and acted as a guide for 4x4 caravans through the region. He served in the US Army in Vietnam in 1970.
Advertisement