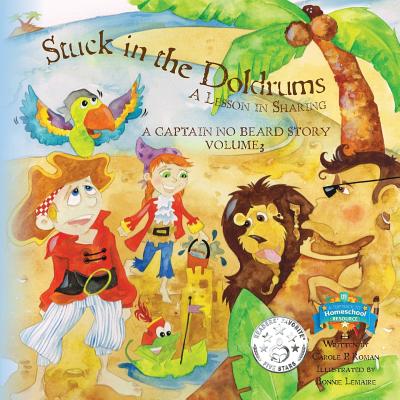 Stuck in the Doldrums (Paperback)
A Lesson in Sharing- A Captain No Beard Story
Createspace Independent Publishing Platform, 9781479182701, 36pp.
Publication Date: March 20, 2013
Other Editions of This Title:
Hardcover (4/26/2017)
Paperback (4/17/2017)
* Individual store prices may vary.
Description
When the wind stops blowing, Captain No Beard and his crew, including First Mate Hallie, Linus the Lion, Fribbet the Frog, Mongo the Monkey and Polly the Parrot, are stuck on a desert island. Maroon with nothing to do, they begin to play and enjoy themselves. However, Captain No Beard has other ideas, bossing his crew around and making playtime cheerless for everyone.Soon, Captain No Beard decides he has had enough and storms off. When his ship is attacked by a giant squid, he realizes he needs his crew more than ever.Captain No Beard and his crew show young readers that's it's important to cooperate and share your belongings. The crew teaches us that if you want to have friends, then you must be a friend too.
About the Author
Award winning author Carole P. Roman is a former teacher who became a businesswoman. Having grandchildren and sharing stories created a whole new career as an author. Her "Captain No Beard" series has become a hit with young readers as well as their parents. Her debut book, "Captain No Beard-An Imaginary Tale of a Pirate's Life" was named to Kirkus Reviews' Best of 2012. "Pepper Parrot's Problem with Patience" received Five Stars from the ForeWord Reviews - Clarion Review. Roman is currently working on a nonfiction series called "If You Were Me and Lived in...Mexico- A Child's Introduction to Cultures Around the World." She lives on Long Island with her family.