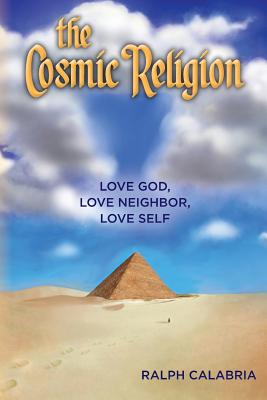 The Cosmic Religion (Paperback)
Love God, Love Neighbor, Love Self
Createspace Independent Publishing Platform, 9781479183753, 202pp.
Publication Date: November 1, 2013
* Individual store prices may vary.
Description
The Cosmic Religion: Love God, Love Neighbor, Love Self, illuminates an Ancient Truth revealed in the teachings of Jesus Christ, Bhagavan Krishna, Gautama Buddha, Lao Tzu, Guru Nanak, Moses, Zarathustra, Muhammad, Paramhansa Yogananda, and others. This handbook for religious discussion and interfaith dialogue identifies the universal golden thread linking eight religions, explains the common thinking and behavior of the three types of believers that exist in all religions, and interprets some of the spiritual mysteries revealed by Jesus from a cosmic religious perspective. It will change the way we look at the world's religions and how they all fit - and don't fit - together. Iconoclastic and expansive, Calabria's foundational treatise is profoundly relatable as it simplifies the discussion into terms that are easy to understand and apply. Its unique ability to provide evidence of unity in the world's religions offers not only insight into the beliefs of others but also into one's own as well. It searches for universal understanding based upon common sense, scriptures, saints and sages. A groundbreaking new handbook for students of religious discussion who intuitively know there must be underlying order, unity and truth to the world's religions, this volume offers a new explanation for the external conflicts between religious groups and the internal confusion found in all religious traditions. Neither a "new age" book nor a panacea claiming all religions are the same, it delves deeply into the three intertwined strands that compose the one universal golden thread running through all religions. Ralph Calabria's determination to develop and share a comprehensive vision of religion has motivated his research, writing, lecturing, meditating, as well as his seeking guidance from saints and sages for over fifty years.
About the Author
I began my religious life as a fundamentalist Christian. During childhood, visiting Christian missionaries intrigued me with their stories of "strange" religions practiced in far-off lands. Their stories led me to begin, while in high school, years of study, reflection, and comparison of religions of East and West. Throughout my adult years, filled with the usual responsibilities of family and career, an determination to develop a comprehensive paradigm of religion persisted and grew. Insights came in abundance through my lived experiences, meditation practice, research, writing, and the saints and sages of all religions. Paramhansa Yogananda and Sathya Sai Baba among others became particularly influential. This book is the culmination of fifty years of effort.