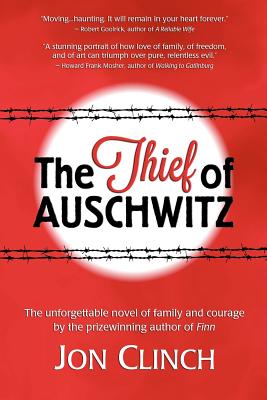 The Thief of Auschwitz (Paperback)
Createspace Independent Publishing Platform, 9781479236664, 276pp.
Publication Date: November 1, 2011
* Individual store prices may vary.
Description
"The camp at Auschwitz took one year of my life, and of my own free will I gave it another four." So begins the much-anticipated new novel from Jon Clinch, award-winning author of Finn and Kings of the Earth. In The Thief of Auschwitz, Clinch steps for the first time beyond the deeply American roots of his earlier books to explore one of the darkest moments in mankind's history-and to do so with the sympathy, vision, and heart that are the hallmarks of his work. Told in two intertwining narratives, The Thief of Auschwitz takes readers on a dual journey: one into the death camp at Auschwitz with Jacob, Eidel, Max, and Lydia Rosen; the other into the heart of Max himself, now an aged but extremely vital-and outspoken-survivor. Old Max has become a world-reknowned painter, and he's about to be honored with a retrospective at the National Gallery in Washington. Yet the truth is that he's been keeping a crucial secret from the art world-indeed from the world at large, and perhaps even from himself-all his life long. The Thief of Auschwitz reveals that secret, along with others that lie in the heart of a family that's called upon to endure-together and separately-the unendurable.
About the Author
About Jon Clinch: Born and raised in the remote heart of upstate New York, Jon Clinch has been an English teacher, a metalworker, a folksinger, an illustrator, a typeface designer, a housepainter, a copywriter, and an advertising executive. His first novel, Finn-the secret history of Huckleberry Finn's father-was named an American Library Association Notable Book and was chosen as one of the year's best books by the Washington Post, the Chicago Tribune, and the Christian Science Monitor. It won the Philadelphia Athenaeum Literary Award and was shortlisted for the Sargent First Novel Prize. His second novel, Kings of the Earth-a powerful tale of life, death, and family in rural America, based on a true story-was named a best book of the year by the Washington Post and led the 2010 Summer Reading List at O, The Oprah Magazine. Jon has lectured and taught widely, in settings as varied as the National Council of Teachers of English, Williams College, the Mark Twain House and Museum, and Pennsylvania State University. In 2008 he organized a benefit reading for the financially-ailing Twain House-enlisting such authors as Tom Perrotta, Stewart O'Nan, and Robert Hicks-an event that literally saved the house from bankruptcy. A native of upstate New York, Jon lives with his wife in the Green Mountains of Vermont. They have one daughter.
Praise For The Thief of Auschwitz…
Advance Praise for Jon Clinch's The Thief of Auschwitz:



"There is a painting of a child that figures throughout Jon Clinch's moving and fierce new book, one of many indelible and haunting images he paints in this story of one family's fight to keep love alive in a landscape filled with death. That painting will remain, like the story itself, in your heart forever."

— Robert Goolrick, author of A Reliable Wife and Heading Out to Wonderful



"Jon Clinch's The Thief of Auschwitz is the intensely dramatic and moving story of how a remarkable painting enables two doomed parents to save their beloved teenage son from the gas chambers of Nazi Germany. Abounding with richly developed, surprising characters, The Thief of Auschwitz is itself a stunning portrait of how love of family, of freedom, and of art can triumph over pure, relentless evil. The Thief of Auschwitz, for my money, is the best and most powerful work of fiction ever written about the Holocaust."

— Howard Frank Mosher, author of Walking to Gatlinburg and Where The Rivers Flow North





Praise for Jon Clinch's Finn:



Named a best book of the year by the Washington Post, the Chicago Tribune, and the Christian Science Monitor.



Named a Notable Book by the American Library Association.



Winner of the Philadelphia Athenaeum Literary Award.



Shortlisted for the Sargent First Novel Prize.



"A brave and ambitious debut novel… It stands on its own while giving new life and meaning to Twain's novel, which has been stirring passions and debates since 1885… triumph of imagination and graceful writing…. Bookstores and libraries shelve novels alphabetically by authors' names. That leaves Clinch a long way from Twain. But on my bookshelves, they'll lean against each other. I'd like to think that the cantankerous Twain would welcome the company."

— USA Today



"Ravishing…In the saga of this tormented human being, Clinch brings us a radical (and endlessly debatable) new take on Twain's classic, and a stand-alone marvel of a novel.

Grade: A."

— Entertainment Weekly



"His models may include Cormac McCarthy, and Charles Frazier, whose Cold Mountain also has a voice that sounds like 19th-century American (both formal and colloquial) but has a contemporary spikiness. This voice couldn't be better suited to a historical novel with a modernist sensibility: Clinch's riverbank Missouri feels postapocalyptic, and his Pap Finn is a crazed yet wily survivor in a polluted landscape…Clinch's Pap is a convincingly nightmarish extrapolation of Twain's. He's the mad, lost and dangerous center of a world we'd hate to live in—or do we still live there?—and crave to revisit as soon as we close the book."

— Newsweek





"Haunting…Clinch reimagines Finn in a strikingly original way, replacing Huck's voice with his own magisterial vision—one that's nothing short of revelatory…Spellbinding."

— Washington Post



"I haven't been swallowed whole by a work of fiction in some time. Jon Clinch's first novel has done it: sucked me under like I was a rag doll thrown into the wake of a Mississippi steamboat…Jon Clinch has turned in a nearly perfect first book, a creative response that matches The Adventures of Huckleberry Finn in intensity and tenacious soul-searching about racism."

— Bookslut



"An inspired riff on one of literature's all-time great villains…This tale of fathers and sons, slavery and freedom, better angels at war with dark demons, is filled with passages of brilliant description, violence that is close-up and terrifying…Everything in this novel could have happened, and we believe it…"

— New Orleans Times-Picayune



"Finn brims with tension, fueled by sentences as taut as a cane pole wrestling a catfish in muddy waters. Considering the heady literary terrain Clinch hopes to master, the novel succeeds better than anyone other than its author could have expected. It offers a jolting companion to the mischievous antics of Huckleberry Finn."

— Christian Science Monitor



"Shocking and charming. Clinch creates a folk-art masterpiece that will delight, beguile and entertain as it does justice to its predecessor…In Finn, Clinch expands the bloodlines and scope of the original story and casts new light on the troubled legacy of our country's infamous past."

— New York Post



"In Clinch's retelling, Pap Finn comes vibrantly to life as a complex, mysterious, strangely likable figure…Clinch includes many sharply realized, sometimes harrowing, even gruesome scenes…Finn should appeal not only to scholars of 19th century literature but to anyone who cares to sample a forceful debut novel inspired by a now-mythic American story."

— Atlanta Journal-Constitution



"Disturbing and darkly compelling…Clinch displays impressive imagination and descriptiveness…anyone who encounters Finn will long be haunted by this dark and bloody tale."

— Hartford Courant



"Jon Clinch pulls off the near impossible in his new novel, Finn, which brings Huck's dad to life in all his terrible humanness…Clinch vividly paints the origins of the amazing Huck…powerfully told."

— Winston-Salem Journal



"Inventing Huckleberry Finn's father using only the thin scraps of information that Mark Twain provided is a pretty admirable feat, and reading Jon Clinch's first novel provides an almost tactile pleasure…Clinch clearly respects Twain, but he doesn't feel especially cowed by his inspiration, and some of his inventions qualify as genuine improvements on the original text."

— Washington City Paper



"In this darkly luminous debut…Clinch lyrically renders the Mississippi River's ceaseless flow, while revealing Finn's brutal contradictions, his violence, arrogance and self-reproach."

— Publishers Weekly (Starred)



"Bold and deeply disturbing… A few incidents duplicate those in Twain, but the novels could not be more different; instead of Huck's unlettered child's voice, we have an omniscient narrative, grave, erudite and rich in the secretions of adult knowledge; terse dialogue acts as an effective counterpoint. All along, Clinch's intent is to probe the nature of evil … a memorable debut, likely to make waves."

— Kirkus Reviews (Starred)



"Every fan of Twain's masterpiece will want to read this inspired spin-off, which could become an unofficial companion volume."

— Library Journal (Starred)



"Finn succeeds wonderfully because its gritty lyricism is at once authentic and original… reminiscent at times of McCarthy…the eloquence of the telling will never make the courageous reader wish for a gentler touch. Like any appealing novel, Finn achieves the force of a dream with fascinating actions, indelible characters and spellbinding language. Its author is wily, astute and wise… Finn is a challenging and rewarding exploration of the suffering human heart. From the ominous shadow that was Pap Finn, Clinch has fashioned an unforgettable, twisted man and a marvelous novel."

— Roanoke Times



"Finn is a pretty damn daring literary conceit executed with élan and style. It tells no less than the story of Huckleberry Finn's father, found dead in a room with a wooden leg, women's undies and two black cloth masks. Twain never got round to telling us what all this meant; Clinch has, and it the revelations are remarkable not just in their facts, but most importantly, in the telling, which is brutal and beautiful. It's searing, surreal look at fathers, sons, and slavery…if there is indeed a difference. It won't comfort you, but it will compel you to read."

— The Agony Column



"An important work that would be regarded as major novel, even if Huckleberry Finn didn't exist."

— Kent Rasmussen, author of Mark Twain A To Z





Praise for Jon Clinch's Kings of the Earth



Named a best book of the year by the Washington Post.



True feeling seems to be out of fashion in contemporary fiction, and fiction is the poorer for it. Disaffection and irony may be the tenor of the times, but too much of it can leave you estranged and lonely. Then along comes Clinch, and we are once again safe at home, in the hands of a master. Kings of the Earth recalls the finest work of John Gardner, and Bruce Chatwin's On the Black Hill, another exploration of the bonds between brothers that go unspoken but never unexamined. It becomes a story that is not told but lived, a cry from the heart of the heart of the country, in William Gass's phrase, unsentimental but deeply felt, unschooled but never less than lucid. Never mawkish, Clinch's voice never fails to elucidate and, finally, to forgive, even as it mourns.

— Washington Post



In his masterful and compassionate new novel, Kings of the Earth, Clinch borrows from a true-life case of possible fratricide. Three elderly, semiliterate brothers live in squalor on a ramshackle dairy farm in central New York state. The prismatic narrative shifts time and point of view, and Clinch easily slips into the voices of his diverse cast of characters—a nosy, good-hearted neighbor, a police investigator struggling to do the right thing, and the brothers' drug-dealing nephew. Through evocative descriptions of the landscape—"a countryside full of that same old homegrown desolation"—and by imbuing these odd men with a gentle nobility and an "antique strangeness," Clinch has created a haunting, suspenseful story.

— O, The Oprah Magazine (Lead Book, Summer Reading List)



The power of Kings of the Earth lies in the intricacies of the relationships among the Proctors; neighbor and childhood friend Preston, who serves as something of a guardian angel; the drug-dealing nephew, and the police. Clinch is canny enough to move his characters through their own understated lives, hinting where he needs to as he skirts the obvious, and refusing to overlay a sense of morality on their actions. The landscape informs the story as much as the internal terrain of the characters does, giving Kings of the Earth a grounding that is missing from many modern novels. We know the events that lie behind Clinch's novel were real, and that the novel is not. But the realism here is no less, with writing so vibrant that you feel the bite of a northern wind, smell the rankness of dissipated lives and experience the heart-tug of watching tenuous lives play out their last inches of thread.

— Los Angeles Times



Clinch's literary alchemy results in a stunning book. Because each chapter releases essential information, the book moves easily toward closure, but an intricate knot of story lines plays out through them. Recalling William Faulkner's As I Lay Dying, each short chapter is broken into a section that is told in the first person. Not only do we get the brothers' voices, we hear a rural chorus: the dead father and mother, neighbors, the sister, brother-in-law, lawyers and the police.

— Dallas Morning News



It's the sort of book you race through then read again more slowly, savoring each voice. Preston, the kindly neighbor who cheerfully admits he doesn't entirely understand the Proctors, says, "Where a man comes from isn't enough. You've got to go all the way back to the seed of a man and the planting of it, and a person can't go back that far ever I don't think." Clinch goes back to that seed and that planting, and readers will eagerly go with him.

— Seattle Times



This is a gritty but warm-hearted and beautifully realized novel about three old unmarried brothers who live together on a rundown dairy farm in upstate New York. Clinch addresses one of Faulkner's favorite themes in this novel—our ability to endure—and explores it in ways that are inspiring and poignant. Enthusiastically recommended for readers of literary fiction.

— Library Journal (Starred)



In Clinch's multilayered, pastoral second novel (after Finn), a death among three elderly, illiterate brothers living together on an upstate New York farm raises suspicions and accusations in the surrounding community. Family histories and troubles are divulged in short chapters by a cacophony of characters speaking in first person. Alongside the police troopers' investigation, each player contributes his own personal perspectives and motivations, including allusions to homosexual behavior. Clinch explores family dynamics in this quiet storm of a novel that will stun readers with its power.

— Publishers Weekly (Starred)