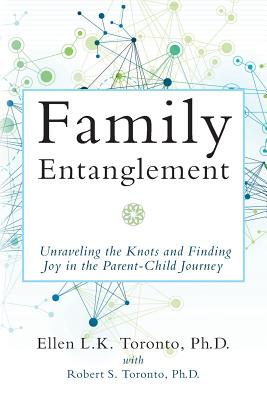 Family Entanglement: Unraveling the Knots and Finding Joy in the Parent-Child Journey (Paperback)
Unraveling the Knots and Finding Joy in the Parent-Child Journey
Createspace Independent Publishing Platform, 9781479397587, 278pp.
Publication Date: March 9, 2013
About the Author
Dr. Ellen L. K. Toronto has nearly forty years of experience in the psychology field. She earned her bachelor's in psychology from Miami University in Ohio and completed a doctorate in from the University of Michigan and a clinical internship at the Lafayette Clinic in Detroit. Toronto is a member of the American Psychological Association and a founding member and past president of the Michigan Psychoanalytical Council. Throughout a diverse career, she has acted as a psychotherapist, parent coordinator, divorce mediator, and custody evaluator, all while managing her own private practice in Ann Arbor. Between being published in numerous journals and her diverse career, Toronto is a foremost authority in her field. Dr. Toronto and her husband, Robert Toronto, are the parents of four sons and have ten grandchildren. Dr. Robert Toronto has forty years of experience in the field of organizational psychology. His background includes a PhD, in organizational psychology from The University of Michigan; a master's in industrial psychology from the University of Utah; and a BS in chemistry from the University of Utah. During his diverse career he has been employed at The University of Michigan Health System where he conducted group and leadership development projects and has served as director of the UAW-Ford/Life Education Program where he conducted research on the effects of worker adult-education on worker's children. His experience in the corporate world has focused on organizational assessment, survey feedback, team decision-making, interpersonal relationships, and communication. At present he is a lecturer at the College of Management at The University of Michigan-Dearborn where he teaches organizational behavior at the undergraduate and graduate levels.
Advertisement