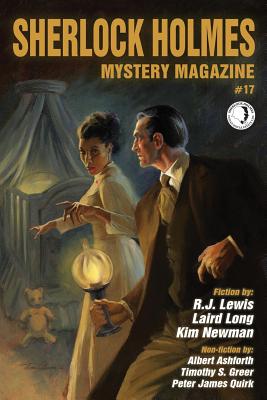 Sherlock Holmes Mystery Magazine #17 (Paperback)
Wildside Press, 9781479406265, 142pp.
Publication Date: July 1, 2015
Other Editions of This Title:
Paperback (2/1/2016)
Paperback (4/14/2014)
Paperback (6/9/2016)
Paperback (12/4/2014)
Paperback (4/7/2015)
Paperback (4/20/2009)
Paperback (10/1/2013)
Paperback (3/16/2011)
Paperback (6/10/2013)
Paperback (9/1/2011)
* Individual store prices may vary.
Description
"Sherlock Holmes Mystery Magazine" returns with issue #17, presenting the best in modern and classic mystery fiction Included this time are the usual column by Dr John H. Watson, plus the following works:
His Latest Bow, by Timothy S. Greer
An Unlikely Hero, by Peter James Quirk
Brooklyn's Elusive "Mr. G," by Albert Ashforth
Red Jacks Wild, by Kim Newman
Bus-ted, by Laird Long
Dead Man's Hand, by Steve Liskow
Die, Miles Cornbloom, by Alex Shvartsman
Vows, by R.J. Lewis
Somewhere Between A & B, by Steve Hagood
The Greek Interpreter, by Sir Arthur Conan Doyle
Gates of Baker Street, by Mackenzie Clarkes
"Sherlock Holmes Mystery Magazine" is produced under license from Conan Doyle Estate Ltd.