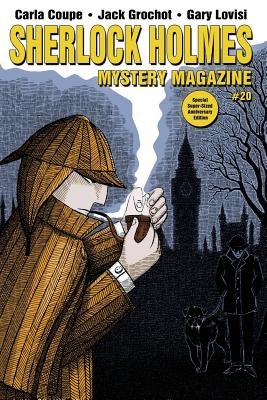 Sherlock Holmes Mystery Magazine #20 Special Super-Sized Anniversary Edition (Paperback)
Wildside Press, 9781479422463, 210pp.
Publication Date: June 9, 2016
Other Editions of This Title:
Paperback (2/1/2016)
Paperback (4/14/2014)
Paperback (12/4/2014)
Paperback (4/7/2015)
Paperback (4/20/2009)
Paperback (10/1/2013)
Paperback (3/16/2011)
Paperback (6/10/2013)
Paperback (7/1/2015)
Paperback (9/1/2011)
* Individual store prices may vary.
Description
Sherlock Holmes Mystery Magazine #19 features the best in contemporary and classic mystery fiction, with a great linup of crimes and columns. Here are:
Features:
From Watson's Notebook, by John H. Watson, M. D.
Ask Mrs Hudson, by (Mrs) Martha Hudson
Non Fiction:
Screen of the Crime, by Kim Newman
Sherlock Holmes for Crown and Country, by Dan Andriacco
Fiction:
The Case of the Burnt Song, by Martin Rosenstock
Sherlock Holmes: Discovering the Border Burghs and, by Deduction, The Brig Bazaar, In the style of Sir Arthur Conan Doyle
The Singular Affair at Sissinghurst Castle, by David Marcum
The Case of the Swindled Candidate, by Jack Grochot
The Late Constable Avery, by G C Rosenquist
The Strange Case of the Wrinkled Yeti of The Club Foot and his Abominable Life, by Gary Lovisi
The Wrong Doctor, by Rafe McGregor
The Case of the Missing Archaeologist, by Carla Coupe
CLASSIC REPRINT:
The Adventure of the Stockbroker's Clerk, by Sir Arthur Conan Doyle
ART & CARTOONS:
Ivan Murgia (Front Cover)
Cartoon by Marc B.