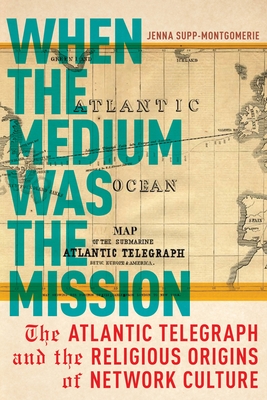 When the Medium Was the Mission
The Atlantic Telegraph and the Religious Origins of Network Culture (North American Religions)
Paperback

* Individual store prices may vary.
Other Editions of This Title:
Hardcover (2/16/2021)
Description
An innovative exploration of religion's influence on communication networks
When Samuel Morse sent the words "what hath God wrought" from the US Supreme Court to Baltimore in mere minutes, it was the first public demonstration of words travelling faster than human beings and farther than a line of sight in the US. This strange confluence of media, religion, technology, and US nationhood lies at the foundation of global networks. The advent of a telegraph cable crossing the Atlantic Ocean was viewed much the way the internet is today, to herald a coming world-wide unification. President Buchanan declared that the Atlantic Telegraph would be "an instrument destined by divine providence to diffuse religion, civilization, liberty, and law throughout the world" through which "the nations of Christendom would] spontaneously unite." Evangelical Protestantism embraced the new technology as indicating God's support for their work to Christianize the globe. Public figures in the US imagined this new communication technology in primarily religious terms as offering the means to unite the world and inspire peaceful relations among nations. Religious utopianists saw the telegraph as the dawn of a perfect future. Religious framing thus dominated the interpretation of the technology's possibilities, forging an imaginary of networks as connective, so much so that connection is now fundamental to the idea of networks. In reality, however, networks are marked, at core, by disconnection. With lively historical sources and an accessible engagement with critical theory,
When the Medium was the Mission
tells the story of how connection was made into the fundamental promise of networks, illuminating the power of public Protestantism in the first network imaginaries, which continue to resonate today in false expectations of connection.
New York University Press, 9781479801497, 312pp.
Publication Date: February 16, 2021
About the Author
Jenna Supp-Montgomerie is Assistant Professor of Religious Studies and Communication Studies at The University of Iowa.