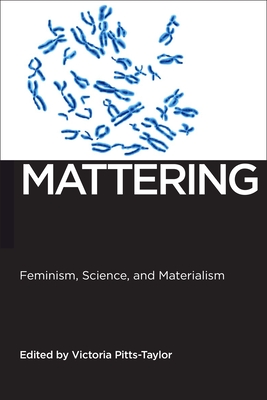 Mattering (Paperback)
Feminism, Science, and Materialism (Biopolitics #1)
New York University Press, 9781479845439, 320pp.
Publication Date: August 30, 2016
Other Editions of This Title:
Hardcover (8/30/2016)
* Individual store prices may vary.
Description
Feminists today are re-imagining nature, biology, and matter in feminist thought and critically addressing new developments in biology, physics, neuroscience, epigenetics and other scientific disciplines. Mattering, edited by noted feminist scholar Victoria Pitts-Taylor, presents contemporary feminist perspectives on the materialist or 'naturalizing' turn in feminist theory, and also represents the newest wave of feminist engagement with science. The volume addresses the relationship between human corporeality and subjectivity, questions and redefines the boundaries of human/non-human and nature/culture, elaborates on the entanglements of matter, knowledge, and practice, and addresses biological materialization as a complex and open process.
This volume insists that feminist theory can take matter and biology seriously while also accounting for power, taking materialism as a point of departure to rethink key feminist issues. The contributors, an international group of feminist theorists, scientists and scholars, apply concepts in contemporary materialist feminism to examine an array of topics in science, biotechnology, biopolitics, and bioethics. These include neuralplasticity and the brain-machine interface; the use of biometrical identification technologies for transnational border control; epigenetics and the intergenerational transmission of the health effects of social stigma; ADHD and neuropharmacology; and randomized controlled trials of HIV drugs.A unique and interdisciplinary collection, Mattering presents in grounded, concrete terms the need for rethinking disciplinary boundaries and research methodologies in light of the shifts in feminist theorizing and transformations in the sciences.
About the Author
Victoria Pitts-Taylor is author of three books, including The Brain's Body: Neuroscience and Corporeal Politics. She is also Editor of The Cultural Encyclopedia of the Body. She is Professor of Feminist, Gender & Sexuality Studies, Science in Society, and Sociology at Wesleyan University.