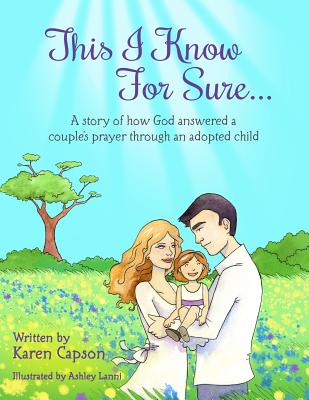 This I Know for Sure...: A Story of How God Answered a Couple's Prayer Through an Adopted Child (Paperback)
A Story of How God Answered a Couple's Prayer Through an Adopted Child
Createspace Independent Publishing Platform, 9781480180147, 60pp.
Publication Date: July 24, 2013
About the Author
Former special education teacher, now stay-at-home mom to her daughter, Madison Faith, Karen Capson and her husband, Greg, recently celebrated fifteen years of marriage. Together, they endured countless heartbreaks along their journey to become parents, from unexplained infertility and the loss of three pregnancies to the devastating passing of Greg's mother from breast cancer in 2005. Through these struggles, they grew stronger as a couple and developed a solid foundation in their Christian faith, which ultimately guided them to relinquish their own pursuit of parenthood and put their lives in the capable hands of their Almighty Father. They prayed diligently for eight years, asking Him to grant them the one request that they had believed impossible, even through modern medicine...to have a child to call their own. Through God, they learned that ALL things are possible! Their hearts were opened to the idea of adoption in the latter part of 2003, and their prayer requests were brought to fruition with the birth of their daughter in 2005. The local adoption was finalized in early 2006, where the celebration of Madison's Adoption Day sparked the onset of a new family tradition, also known as "Madi Gras." Since then, Karen has become a strong advocate for adoption, leading several friends not only to contemplate this alternate path to parenthood, but to see their dream become a reality by walking them through the adoption process. Karen's positive experience with adoption, and belief that God specifically designed their child uniquely for them, inspired her to write her first children's book, "This I Know For Sure...." What began with the sole purpose of giving their daughter, Madison, a lasting "snapshot" of her adoption, evolved into a greater faith-led mission to write a story that would stand as a testament to God's intricate and purposeful plan for every child.
Advertisement