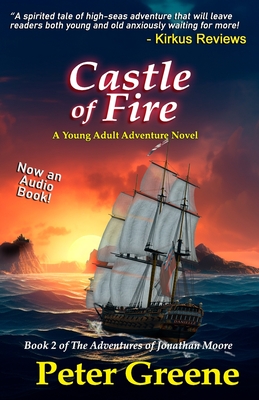 Castle of Fire: The Adventures of Jonathan Moore (Illustrated) (Paperback)
The Adventures of Jonathan Moore (Illustrated)
Createspace Independent Publishing Platform, 9781480203457, 368pp.
Publication Date: October 26, 2012
About the Author
Peter Greene is the author of The Adventures of Jonathan Moore, a young adult series and its first two books Warship Poseidon (originally released as Skull Eye Island) and Castle of Fire. Warship Poseidon won the 2012 Adventure Writers Competition's Grand Master Award sponsored by the Clive Cussler Collector's Society and was the Independent Author Network's 2015 Action Adventure book of the year. Castle of Fire achieved a Finalist award in the 2015 IAN's Book of the Year contest. Kirkus Review of Castle of Fire: "Greene seamlessly weaves together several dynamic storylines-pirates, a stowaway, attempted murder and the dreaded French Navy-creating a rich, complex world for readers to enjoy. Each thread is well-developed and works to further the story to a thrilling, fiery climax. Though peppered with interesting facts on British Navy life in the early 1800s, the narrative never feels weighed down with extraneous trivia or overly technical jargon. It's driven by an eclectic, well-drawn cast of characters, from the salty ship's cook to the hot-tempered captain to resourceful Jonathan. Also joining the crew is the irrepressible stowaway Miss Delain Dowdeswell, whose spunk and wit will appeal to young female readers. Delain, Jonathan and his quirky best friend, Sean Flagon, form a wonderful trio whose escapades-including a thrilling assault on a fleet of French ships-will leave readers hooked." The books are based in the early 1800's on the main character Jonathan Moore and his adventures on the sailing ship HMS Poseidon, a forty-four gun fighting frigate of the Bristish Royal Navy. The volumes are age approriate, no magic or vampires, and historically accurate. "I wanted to create a story that would be exciting for children and young adults, and one that was easy to read aloud. I also wanted to keep the adults interested so that children could see their parents enjoying the story and see that reading is fun," said Greene. "That's how we create future readers, by setting an example." Jonathan Moore, the hero of Skull Eye Island and Castle of Fire succeeds using courage, intelligence and determination. "I believe that is a wonderful lesson for everyone: that they have it within themselves to do something great," says Greene. "No need to wait for a magical event or some strange relative to grant you a bizarre power - we can succeed and excel with what we have inside ourselves." Peter lives in Arizona, with his wife and two children.
Advertisement