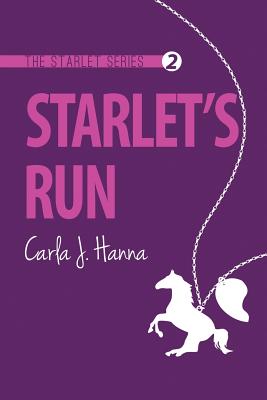 Starlet's Run
Paperback

* Individual store prices may vary.
Description
From the award-winning author of the Starlet Series, comes Starlet's Run, a story about teen actress Liana Marie, a girl torn between two cultures. Discover why the Starlet Series took Gold and Silver medals in the Readers' Favorite 2014 International Book Awards. Love. Intentions. Acting. Life is more complicated than a Hollywood story. A novel by award-winning author Carla Hanna of the Starlet Series, perfect for young adult or new adult readers who enjoyed Nicholas Sparks' A Walk to Remember, Elizabeth Gilbert's Eat, Pray, Love, Gayle Forman's If I Stay, or John Green's The Fault in Our Stars. Fictional actress Liana Marie Michael writes her second memoir, Starlet's Run, as she suffers through the Five Stages of Grief. But when Lia's scripts speak for her and drama becomes her life, can she find the strength to run her own lines and shape her new role? - I'm actress Liana Marie Michael. Hollywood's obsession with beauty made my actress-mother stay competitive. Athletes use steroids. Actors use plastic surgery and anti-aging drugs. So now I'm a physical mess inside, dealing with it, and starring in another major motion picture. Of course I can't quit. I have brain surgery, feel alive at Grandma's Montana ranch, go back to Hollywood and act. My boyfriend, Manuel, and I want to get married. Everyone has an opinion. I ignore the millions of naysayers until consequences turn dire. I believe that dwelling on pain is a waste of time. Indecision is exhausting. I want to write my own future. But I'm only eighteen years old and caught in a web of lies. In a world where an actress is a product and everyone is a critic, can our young love survive? Should it? - Genres: young adult contemporary romance, new adult college fiction, coming of age fiction, Christian romance, cultural fiction. Contains sex and mild swearing. BLUEINK REVIEW: "YA fans will absolutely want to check out this series, where they'll find a new heroine to root for in the flawed but sympathetic Liana.
Createspace Independent Publishing Platform, 9781480263147, 326pp.
Publication Date: November 10, 2012
About the Author
Carla J. Hanna is the author of award-winning young adult romance and coming of age fiction novels for new adult & college readers. A former housewife of Santa Monica, California, she shares an insider's perspective on Hollywood and celebrity influence in her multicultural novels.