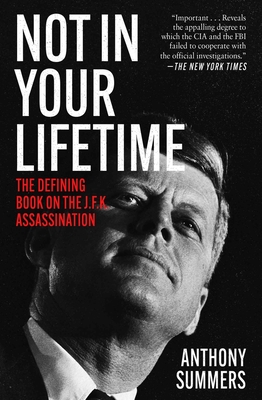 Not in Your Lifetime: The Defining Book on the J.F.K. Assassination (Paperback)
The Defining Book on the J.F.K. Assassination
Open Road Media, 9781480435483, 702pp.
Publication Date: October 1, 2013
Description
Updated with the latest evidence, Pulitzer Prize finalist Anthony Summers's essential, acclaimed account of President Kennedy's assassination
He was holding out his hand . . . He looked puzzled . . . Then he slumped in my lap . . . I kept bending over him saying, Jack, Jack, can you hear me? I love you, Jack . . . The seat was full of blood and red roses . . . . Jacqueline Kennedy, recalling the fatal moment in DallasFifty years on, most Americans still feel they have not been told the truth about President Kennedy's death. Chief Justice Warren, who chaired the first inquiry, said some things that involve security might not be released in our lifetime. Millions of pages of assassination records were finally made public in the late 1990s. Yet the CIA is withholding more than a thousand documents under national security until 2017.Why? Why hold these records back if as we were told half a century ago Lee Harvey Oswald was a lone assassin? Anthony Summers set out to write a reliable account of the murder mystery that haunts America.Not in Your Lifetime, in this fresh edition, is one of the finest books written on the assassination.
About the Author
Anthony Summers is the bestselling author of eight works of nonfiction. His investigative books include Not in Your Lifetime, the critically acclaimed account of the assassination of John F. Kennedy; Official and Confidential: The Secret Life of J. Edgar Hoover; Goddess, a biography of Marilyn Monroe; and most recently The Eleventh Day, on the 9/11 attacks--a finalist for the 2012 Pulitzer Prize for History.
Advertisement