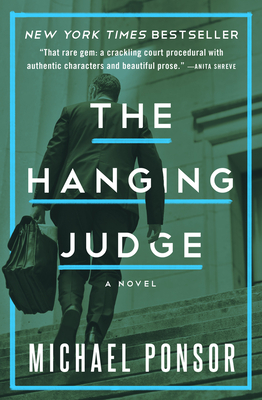 The Hanging Judge (Judge Norcross Novels #1) (Paperback)
Open Road Media Mystery & Thri, 9781480441941, 478pp.
Publication Date: December 3, 2013
Other Editions of This Title:
Digital Audiobook (12/2/2013)
* Individual store prices may vary.
Description
From the author of The One-Eyed Judge A New York Times-bestselling novel about a federal death penalty trial from the perspective of the presiding judge.

When a drive-by shooting in Holyoke, Massachusetts, claims the lives of a drug dealer and a hockey mom volunteering at an inner-city clinic, the police arrest a rival gang member. With no death penalty in Massachusetts, the US attorney shifts the double homicide out of state jurisdiction into federal court so he can seek a death sentence.

The Honorable David S. Norcross, a federal judge with only two years on the bench, now presides over the first death penalty case in the state in decades. He must referee the clash between an ambitious female prosecutor and a brilliant veteran defense attorney in a high-stress environment of community outrage, media pressure, vengeful gang members, and a romantic entanglement that threatens to capsize his trial--not to mention the most dangerous force of all: the unexpected.

Written by judge Michael Ponsor, who presided over Massachusetts's first capital case in over fifty years, The Hanging Judge explores the controversial issue of capital punishment in a dramatic and thought-provoking way that will keep you on the edge of your seat. It is "a crackling court procedural" (Anita Shreve) and "gripping legal thriller" (Booklist) perfect for fans of Scott Turow.
About the Author
Michael Ponsor graduated from Harvard College and Yale Law School. In 1994, President Bill Clinton appointed him a life-tenured US district judge. From 2000 to 2001, he presided over a five-month death penalty trial, the first in Massachusetts in over fifty years. Judge Ponsor continues to serve as a senior US district judge in the United States District Court for the District of Massachusetts, Western Division. The Hanging Judge, his first novel, is the winner of Massachusetts Bay's 2015 OneBook Prize.