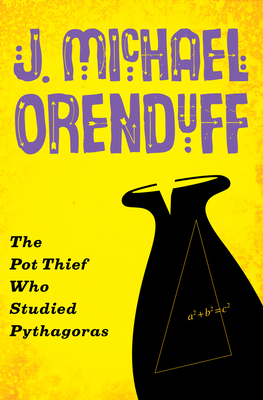 The Pot Thief Who Studied Pythagoras (Pot Thief Mysteries #1) (Paperback)
Open Road Media Mystery & Thri, 9781480458789, 302pp.
Publication Date: January 28, 2014
Other Editions of This Title:
Paperback (1/28/2014)
Paperback (1/28/2014)
Paperback (1/28/2014)
Paperback (1/28/2014)
Paperback (5/22/2018)
Paperback (11/1/2009)
Paperback (6/1/2012)
* Individual store prices may vary.
Description
First in the lively, laugh-filled series featuring a New Mexico pottery dealer with a side job as an amateur sleuth.
A dealer of ancient Native American pottery, Hubert Schuze has spent years combing the public lands of New Mexico, digging for artwork that would otherwise remain buried. According to the US government, Hubie is a thief--but no act of Congress could stop him from doing what he loves. For decades, Hubie has worn the title of pot thief proudly. Outright burglary, though, is another story.
But an offer of $25,000 to lift a rare pot from a local museum proves too tempting for Hubie to refuse. When he sees how tightly the relic is guarded, he changes his mind, but the pot goes missing anyway. Soon a federal agent suspects that Hubie is the culprit. After things take a turn for the serious, Hubie knows he must find the real thief quickly, or risk cracking something more fragile than any pot--his skull.
The Pot Thief Who Studied Pythagoras is the 1st book in the Pot Thief Mysteries, but you may enjoy reading the series in any order.
About the Author
J. Michael Orenduff grew up in a house so close to the Rio Grande that he could Frisbee a tortilla into Mexico from his backyard. While studying for an MA at the University of New Mexico, he worked during the summer as a volunteer teacher at one of the nearby pueblos. After receiving a PhD from Tulane University, he became a professor. He went on to serve as president of New Mexico State University. Orenduff took early retirement from higher education to write his award-winning Pot Thief murder mysteries, which combine archaeology and philosophy with humor and mystery. Among the author's many accolades are the Lefty Award for best humorous mystery, the Epic Award for best mystery or suspense ebook, and the New Mexico Book Award for best mystery or suspense fiction. His books have been described by the Baltimore Sun as "funny at a very high intellectual level" and "deliciously delightful," and by the El Paso Times as "the perfect fusion of murder, mayhem and margaritas."