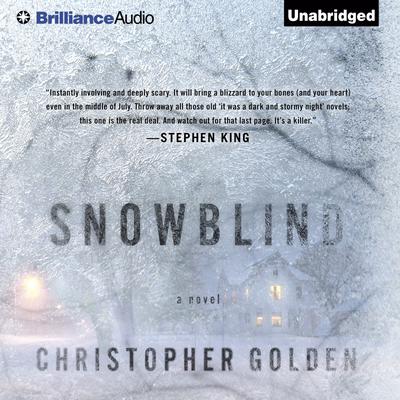 Snowblind (Digital Audiobook)
Publication Date: January 20, 2014
Other Editions of This Title:
MP3 CD (1/21/2014)
Mass Market (11/25/2014)
Hardcover (1/21/2014)
MP3 CD (1/21/2014)
Compact Disc (1/21/2014)
Compact Disc (1/21/2014)
MP3 CD (11/25/2014)
Compact Disc (11/25/2014)
Hardcover, Large Print (5/9/2014)
Description
In Christopher Golden's first horror novel in more than a decade—a work reminiscent of early Stephen King—Snowblind updates the ghost story for the modern age.
The small New England town of Coventry had weathered a thousand blizzards…but never one like this, where people wandered into the whiteout and vanished. Families were torn apart, and the town would never be the same.
Now, as a new storm approaches twelve years later, the folks of Coventry are haunted by the memories of that dreadful blizzard and those who were lost in the snow. Photographer Jake Schapiro mourns his little brother, Isaac, even as—tonight—another little boy is missing. Mechanic and part-time thief Doug Manning's life has been forever scarred by the mysterious death of his wife, Cherie, and now he's starting over with another woman and more ambitious crimes.
Police detective Joe Keenan has never been the same since that night, when he failed to save the life of a young boy…and the boy's father vanished in the storm only feet away. And all the way on the other side of the country, Miri Ristani receives a phone call…from a man who died twelve years ago.
As old ghosts trickle back, this new storm will prove to be even more terrifying than the last.
Spellbinding in scope and rooted deeply in classic storytelling, Snowblind is a chilling masterpiece that is both Christopher Golden's breakout audiobook and a standout supernatural thriller.