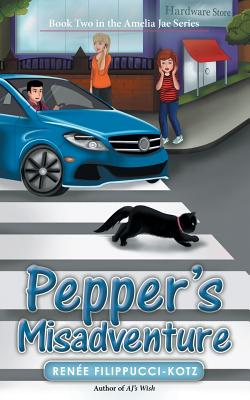 Pepper's Misadventure
Book Two in the Amelia Jae Series
Paperback

* Individual store prices may vary.
Description
Injured and alone Pepper must navigate through a city with its frightening sounds and dangers.
Pepper's Misadventure, is the second book in author Ren e Filippucci-Kotz's Amelia Jae series. Pepper, recently adopted by ten-year-old AJ and her family, is on her way to the veterinarian when her family is in an auto accident. AJ takes Pepper out of the car to check on her. Pepper is frightened by a dog, jumps out of AJ's arms and runs away. Pepper's Misadventure follows AJ, her friends Cory and Su Li, and her parents as they look for Pepper as well as Pepper's experience while she is lost.
Pets are an important part of our lives. Whether you have a pet or not, you'll understand how AJ feels about Pepper's disappearance. Pepper's Misadventure is an exciting and entertaining book.
Archway Publishing, 9781480851214, 90pp.
Publication Date: November 7, 2017