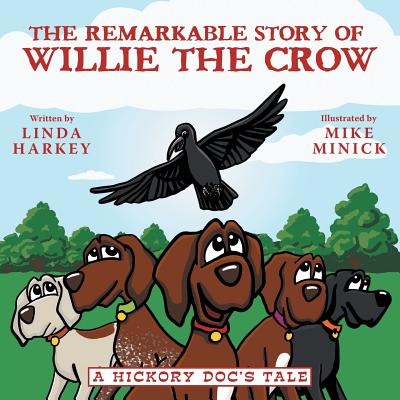 The Remarkable Story of Willie the Crow
A Hickory Doc's Tale
Paperback

* Individual store prices may vary.
Description
The pack at the Lazy Dog Hacienda in Oklahoma includes five dogs: Doc, the oldest and wisest; Zeke, his annoying younger brother; Patch, Doc's daughter; Rush, Doc's son; and Newt, a black Lab who is part of the family.
One day, when Doc and Patch are napping on the porch, a young black crow swoops down and lands on Patch's head. This is how the dogs meet Willie, a crow with bad eyesight who becomes the particular friend of Patch. Although the other dogs don't like Willie very much, Doc knows Patch can learn a lot about birds by playing with the crow. Then one day, Patch accidentally falls into the swimming pool and isn't able to get out. Doc and Zeke can't swim, so Willie is sent to find Newt to rescue Patch. Will he make it in time?
Featuring fun color illustrations, this children's story shares how a pack of hunting dogs and an extraordinary crow become friends and learn from one another.
"These hunting dogs jump off the page and come to life through Linda's tales of their adventures as they face challenges in life. I am a second grade teacher in Eagle Nest, New Mexico, and I also organize our public library summer reading program. Linda's stories engaged our students in the lives of these dogs sparking great discussions and learning activities about character development, sequencing, and elements of the story. One student brought a stuffed puppy dog named after Zeke to join the fun every week."
-Cindy Carr, NBCT
"A lovable bird dog points the way to outdoor fun in the country in this children's book......A sweet slice of rural American canine life."
-Kirkus Review
I had the opportunity to spend the summer doing a summer reading program in Northern New Mexico where we read Linda Harkey's book, Hickory Doc's Tales. When we got to the chapter, "Willie's First Secret", the kids loved it and eagerly wanted to figure out the "secret". The last paragraph revealed there were more secrets, so the kids wanted to know more stories about Willie. I am so excited that Willie's secrets will be revealed in this new children's book. I can't wait to enjoy it with my students
-Dana McBee, 4th-5th Grade Teacher, Eagle Nest Elementary School, Eagle Nest, New Mexico
Archway Publishing, 9781480869233, 38pp.
Publication Date: December 11, 2018