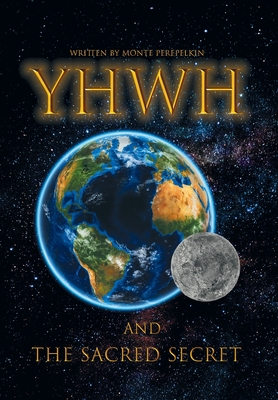 Yhwh and the Sacred Secret
Hardcover

* Individual store prices may vary.
Other Editions of This Title:
Paperback (1/23/2020)
Description
There is a Creator This is the simple truth that is revealed within YHWH and the Sacred Secret. Through careful application of science and logic, as well as a comprehensive evaluation of the Bible, the truth about our Creator and what He has planned for the future of humanity is presented clearly and without religious bias.
More than fifty different Bible versions are used to reveal how virtually every translation in print today delivers the same message about humankind's future, one that nearly every religion on the planet has failed to teach. From Genesis to Revelation, YHWH and the Sacred Secret offers the reader a modern interpretation of humankind's instructional manual: The Bible.
Whatever your background-Christian, atheist, creationist or evolutionist-this book is a must-read for everyone.
All profits that go to the author from the sale of this publication will be donated to helping the homeless.
Archway Publishing, 9781480875753, 152pp.
Publication Date: January 23, 2020
About the Author
On February 12, 1999, shortly after my thirtieth birthday, I was seriously injured while racing arenacross. The injury left me paralyzed from the neck down. However, to say I've lived an eventful life, both before and after my injury, would be an understatement. Before I was even two years old, I was backed over by a car while playing in my babysitter's driveway. Fortunately, and by no small miracle, I escaped the incident more or less unscathed. My journey through life continued with my parents' divorce not long after my second birthday-after which I lived with my mother and had very little contact with my biological father. After moving around for the next three years, my mother remarried and we finally settled down in a small town in Saskatchewan. That's where our family lived until I reached adulthood. Despite having the valuable life experience of growing up in a small farming town, I dropped out of high school in grade eleven, became a three-time convicted criminal, and even did some time in prison. Then, after deciding it was time to clean up my act, I went on to enjoy a brief encounter with what I believed was the perfect life. I was a competitive motorcycle racer and a successful finishing carpenter with a gorgeous wife and two beautiful daughters whom I loved and cherished. To top it off, I had just finished building our dream home on an acreage outside of Calgary. I truly was living what I believed to be the perfect life. Then, within the blink of an eye, my perfect little life vanished in a motor cycle accident that left me a quadriplegic. During the process of clawing my way through a dark forest of loss and adversity, however, a thirst for knowledge was ignited inside me. That thirst has taken me further in self-discovery and brought me to a greater understanding of human existence than I could ever imagined. My initial motivation during this thirst for knowledge was to prove to myself there was no such thing as God and that the Bible was fake. But that didn't work out quite as I expected. As truth after truth and fact after fact were uncovered, my resolve slowly reversed course. After ten years of secular and biblical research, for the first time in my life, everything made sense. From thoroughly studying the contents of the Bible with an open mind, I learned that it actually is the real deal. That's when I discovered what the Bible was really saying, and it's not what religions have been telling us. That compelled me to write this book, to give you, the reader, the truth about what the Bible is actually saying. And most importantly, the truth about what the Bible is promising. Although my life as a quadriplegic may at times resemble what some people would call a nightmare, I have come to realize it is a gift. As a result of having long intervals of free time with nothing more than my thoughts to occupy me, I would concede that being paralyzed has taught me the most about life. And I am eternally grateful to have had the opportunity to experience this journey. Without it, I never would have come to learn what I now know. Quite honestly, I consider it both an honor and a privilege to share what I have learned with you. The irony is that I'm writing this with a stick in my mouth, typing it out one keystroke at a time. My only agenda in writing this book is that you take the time to read it to the end. Afterward, what you do with this knowledge is up to you.
or
Not Currently Available for Direct Purchase