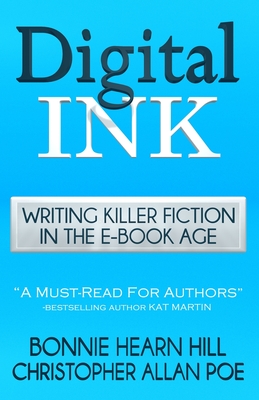 Digital Ink (Paperback)
Writing Killer Fiction in the E-Book Age
Createspace Independent Publishing Platform, 9781481130318, 102pp.
Publication Date: December 18, 2012
* Individual store prices may vary.
Description
From protagonists and antagonists, to dialogue and conflict, DIGITAL INK is a powerful, succinct, and entertaining book that will dramatically improve any writer's work.

Suddenly it's a cinch to publish -- pop your manuscript up online via Amazon's KDP, INScribe, Smashwords, or Pubit and voil , you've got an e-book. The number of authors, self-published and otherwise, is exploding. But what everybody seems to be talking about is marketing. They're overlooking the actual writing. There's a lot of talk about the sizzle, and yet scant attention to the steak.

This book says hold on a minute It's not just marketing; it has to be a great book. You have to know how to write. Funny and fast, as a book must be in the digital age, DIGITAL INK takes you through all the basics: dialogue, plot, character development, POV, and more. DIGITAL INK will transform your writing.

"Digital Ink is a MUST READ for unpublished authors, as well as those of us who wish to review our craft. Tried and true techniques that work in any market. --New York Times bestselling author, Kat Martin

"This book is packed with clear information, advice, and examples that will transform your novel. Before you publish, read this book " --Jen Calonita, bestselling author of SECRETS OF MY HOLLYWOOD LIFE, SLEEPAWAY GIRLS, and the new series for Young Adults, BELLES.
About the Author
Bonnie Hearn Hill is the author of six thrillers, four young adult novels, and numerous nonfiction titles. A former newspaper editor, she writes articles on the craft of writing and leads online and real time workshops. Christopher Allan Poe is an author and touring musician from Los Angeles. He writes paranormal fiction, with an emphasis on social issues involving women and children. He has been accepted into the International Thriller Writers Debut Authors Program. Bonnie and Christopher speak at conferences across the country, and they love hearing from writers. Contact them through their website at: www.DIGITALINKBOOKS.com