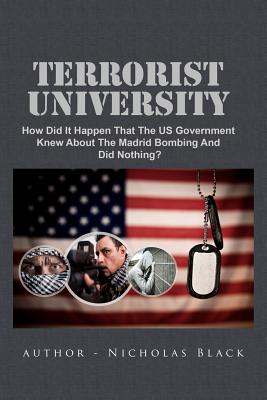 Terrorist University
How Did It Happen That The US Government Knew About The Madrid Bombing And Did Nothing?
Paperback

* Individual store prices may vary.
Description
Wanted al Qaeda agents. U.S. counter-terrorism operatives. American officials- dead-set on stopping terrorist activity and preventing the deaths of innocent civilians the world over. Except they didn't. And instead, I became a pawn for the U.S. government and the Madrid train bombings of March 11, 2004 still occurred. Even after I handed evidence over to high-level American officials that could stop a devastating al Qaeda attack, the powers that be did nothing. And countless people still died. I am Nicholas Black, a former Security Contractor, U.S. Navy serviceman and member of the French Foreign Legion. I am also a former prisoner, having served time in Valdemoro prison in Spain. Also known as "Terrorist University," it was here, while awaiting extradition that the U.S. government decided to use me to gather information on al Qaeda. I became friends with my fellow prisoners-some of them the most wanted men on the planet-and I earned their trust. All in the hopes of serving my country and possibly having the chance to save some lives. My efforts were for naught. A day that began as any other, but ended bloody-March 11, 2004-still came and went. And the U.S. government simply watched, even when they had the knowledge, and the means, to prevent it. Terrorist University is my story.
Createspace Independent Publishing Platform, 9781481174008, 180pp.
Publication Date: December 12, 2012
About the Author
Controversial novelist Nicholas Black is the author of several fiction and non-fiction works. As a security consultant in Mexico, Central America, Spain, France, and Northern Africa, he also served in the coveted French Foreign Legion while he was on the run from the Federal Government for refusing to cooperate with a murder investigation. At one time, Mr. Black was alleged by the US Federal Government to be an "arms trafficker," as well as a member of a group of men who, "...carried out contract killings." There are many far-fetched and fancy rumors surrounding Mr. Black's past. He now trains and fights in Mixed-Martial Arts. As an expert in Brazilian Jiu-jitsu, Muay Thai, and other combative tactics, he trains both professional fighters, security teams, and law enforcement in the art of armed and unarmed combat/unconventional warfare. Whenever he isn't throwing punches, he's probably working on his next novel.