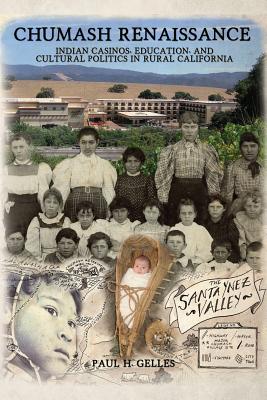 Chumash Renaissance (Paperback)
Indian Casinos, Education, and Cultural Politics in Rural California
Createspace Independent Publishing Platform, 9781481176149, 260pp.
Publication Date: May 4, 2013
* Individual store prices may vary.
Description
" A] highly compelling documentation of the cultural, educational, and economic revitalization of our tribe... 'Chumash Renaissance' is very valuable in that it helps clear up a lot of the misinformation about the Chumash. We're very happy to support this important book." Vincent Armenta, Tribal Chairman, Santa Ynez Band of Chumash Indians
"A rich, informative text highlighting Chumash ingenuity in rebuilding a long-oppressed culture." Kirkus Reviews
"Chumash Renaissance is a landmark book. Exactly the opposite of the received wisdom about corrupting casino cash, it helps us to see California, Native America, and the casino revolution in a whole new way." Orin Starn, Professor of Anthropology at Duke University and author of Ishi's Brain: In Search of America's Last "Wild" Indian
"Great introduction to the subject of Native American casinos and the indigenous empowerment that has resulted. Very well suited for the general public and undergraduate classes." Zoila S. Mendoza, Professor of Native American Studies, University of California at Davis
"Gelles recounts an amazing history of cultural loss and educational marginalization that underscores the significance of the tribe's recent achievements. Chumash Renaissance is unique in the literature from the last twenty-five years of tribal government gaming. This new book will be of interest to tribal leaders and communities, state and federal policy makers, college and high school teachers for their classes, and to a general public interested in learning about the effects of casinos on tribal peoples and their surrounding communities." Katherine Spilde, Endowed Chair of the Sycuan Institute of Tribal Gaming at San Diego State University
"Of great importance to libraries, scholars, students, and general public. An excellent work" Clifford Trafzer, Professor of History, Rupert Costo Chair, and Director of the California Center for Native Nations.
Indian casinos are extraordinarily controversial. They have brought great wealth to previously impoverished tribes, but they also generate opposition. What effects do casinos really have on indigenous people? How do they really affect the larger community? Chumash Renaissance answers these questions for one California tribe, the Santa Ynez Band of Chumash Indians. Paul H. Gelles examines how successive waves of colonization have impacted Chumash identity and cultural politics in the Santa Ynez Valley today. Exposing the stereotypes and false assumptions made about the tribe, he shows how the Chumash are overcoming cultural suppression and educational marginalization, how culture and education are interwoven in complex ways, and how the tribe has gained power over its cultural patrimony and heritage. Informative and illuminating, Chumash Renaissance provides an on-the-ground look at Chumash cultural renaissance, the opposition faced by the tribe, and the deeper historical currents and changing cultural politics of rural California today.