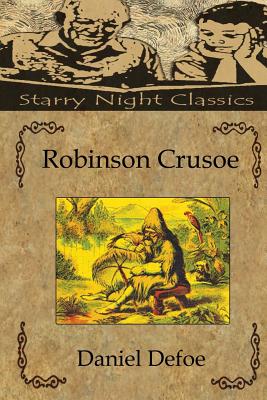 Robinson Crusoe
Paperback

* Individual store prices may vary.
Other Editions of This Title:
Paperback (2/5/2014)
Paperback, German (4/7/2020)
Paperback (10/10/2012)
Paperback (3/9/2020)
Paperback (7/19/2015)
Paperback (12/10/2019)
Paperback (2/2/2020)
Paperback, German (2/11/2013)
Paperback, Polish (9/1/2013)
Paperback (5/1/2020)
Paperback, Spanish (1/1/1999)
Paperback (8/21/2018)
Paperback (1/27/2014)
Paperback (6/29/2018)
Paperback (6/15/2012)
Description
Considered by many to be the prototype for the English novel, Daniel Defoe's 1719 classic story of a stranded shipwreck survivor. Marooned for nearly three decades, during the 1600s, Crusoe deals with hardship, solitude, cannibals, pirates and friendship. Inspired by a true story, it is the tale of a determination, ingenuity and faith. Join us for a three hundred year old journey into the heart of a hero.
Createspace Independent Publishing Platform, 9781481178242, 306pp.
Publication Date: December 5, 2012
About the Author
Daniel Defoe was born Daniel Foe sometime around 1660 in London, England. He was a trader, writer and spy, and is considered one of the founders of the English novel. He later added the De to his name to sound more aristocratic, claiming to be descended from Royal blood. He worked as a merchant, but was usually in debt. In 1684, he married Mary Tuffley for her $5,000 dowry, a large amount in those days. The marriage was not a happy one, but lasted 50 years. The couple had eight children. In 1685, he was part of a rebellion, then jailed and pardoned, becoming a secret agent for the new king. In 1692, he was arrested for debts and dishonest dealings. In 1696, he ran a tile and brick factory. When the king died in 1702, he was once again placed in prison, this time for political activism. He was released again in exchange for working as an intelligence agent for the enemy. Defoe wrote more than 500 books, articles and pamphlets during his career as an author, many under nearly 200 psuedonyms. The majority of the novels, such as "Robinson Crusoe" and "Moll Flanders" were published during a five year period from 1719 to 1724. "Robinson Crusoe" is actually based on the real life story of Scottish castaway Alexander Selkirk, who spent four years stranded on a deserted island and on Henry Pitman, who escaped from prison and was shipwrecked. Daniel died on April 24, 1731, while hiding from debt collectors. He is buried in London, England.